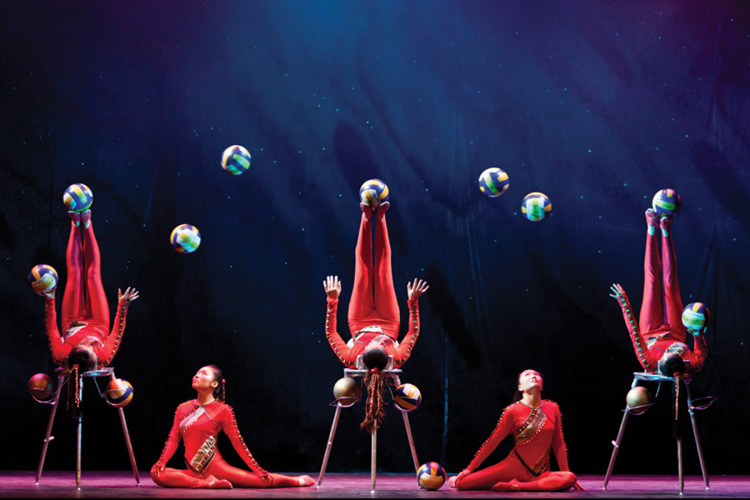 Riverside Theatre says you can "hang out, rock out or chill out." And it's true. You can do any or all of those almost every weekend at Live on the Loop, a humble driveway most of the week, but on Friday and Saturday nights it transforms into a total local hotspot – THE place to, well, see above.
You can count on great food and bevs, always in keeping with the month's theme, and great, free live music. The current theme is "The British Invasion," and this coming Friday, April 26, it's the five-piece St. John's Wood band playing, what else, British Invasion rock and pop from the stellar likes of the Beatles, the Rolling Stones, the Who, the Kinks, the Zombies, the Animals, David Bowie, Eric Clapton. And on. And on. And on.
Saturday, April 27, the band Back in the Day will bring classic rock from the Stones, Led Zeppelin, the Kinks and the always popular "more." Think Brit at the grill, as well: Grab a pint to wash down such traditional dishes as fish and chips, bangers and mash, and pub burgers. There are a couple hundred chairs set up. But, just in case, it's a good plan to tote in your lawn chair. Don't, however, tote in a tumbler (or any off-campus beverages). Or a cooler. Or a dog. So that what's going on outside.
Inside, it's the weekend for the high-energy, always fun, audience participation event – Howl at the Moon – featuring dueling pianos and a drummer. You get to request the songs (remember to keep them Brit – Elton John, Stones, Beatles, Queen, Who, Led Zeppelin, U2). Many have tried to stump the pianists but few – very few – ever have. These musicians are good. And funny. You'll have a jolly evening.
Times: Live on the Loop: 6 p.m. to 9:30 p.m. Howl at the Moon: 7:30 p.m. to 10:30 p.m. Admission: Live on the Loop: free. Howl at the Moon: side seats, $12; table seating, $16 to $22. You can reserve. 772-231-6990.
Brit Sounds under the moon and stars: Season after season, the Night Sounds Concert Series at the Sebastian Inlet State Park brings you live bands and good music in one of the most beautiful, pleasant, unique outdoor music venues around.
Enjoy the (usually) full moon experience again or for the first time this Saturday, April 20. Hosted, as always, by the dedicated Friends of Sebastian Inlet State Park, this week's concert brings the five-piece St. Johns Wood band back to our shores with music from the epic years ('60s) of the British Invasion, and the music that defined a generation.
Night Sounds regulars know the drill: Regular park admission applies. The concert takes place "under the moon and stars" at the pavilions on Coconut Point, 9700 South A1A, Melbourne Beach. Bring chairs or blankets. Time: 6 p.m. to 9 p.m.
Park admission: $8 per vehicle, multiple occupants up to 8; $4, single occupant; $2, pedestrians, bicycles, extra vehicle passengers. 772-388-2750 or 321-984-4852.
It is my personal opinion that everybody should see Disney's "The Lion King" live, somewhere, at least once. More than 95 million people around the world already have, according to the Kravis Center, where this phenomenal six Tony-winning musical opens this Wednesday, April 24.
It is the story of the young lion Simba (Swahili for lion) who is supposed to succeed his father, Mufasa, as king of the Pride Lands. But Mufasa's brother Scar, Simba's evil uncle, kills Mufasa and makes Simba believe it is his fault. Simba is exiled and grows into young adulthood in the company of several interesting characters, as well as his childhood pal and a shaman.
The wisdom he gains from this motley but loving crew helps him mature, until he is at last able to return to the Pride Lands and claim his rightful place. Thus, the Circle of Life continues. According to the show's Broadway website, there are six indigenous African languages sung and spoken throughout the show: Swahili, Zulu, Xhosa, Sotho, Tswana and Congolese.
The musical is based on the Disney film, and with extraordinary music and lyrics by none other than Sir Elton John and Tim Rice. "The Lion King" opened on Broadway in July 1997 and is still running after more than 8,500 performances, making it Broadway's third longest-running show ever and, having grossed more than $2 billion (yes, billion), it is the highest-grossing production of all time.
"The Lion King" is recommended for theatre-goers 6 and up. All the way up. Curtain: Wednesdays, 8 p.m.; Thursdays, 8 p.m.; April 25, also 2 p.m.; Fridays, 8 p.m.; Saturdays, 2 p.m. and 8 p.m.; Sundays, 1 p.m. and 6:30 p.m. through May 5. Tickets: $45 to $135. Maximum ticket limit is 9 tickets per account. 561-832-7469.