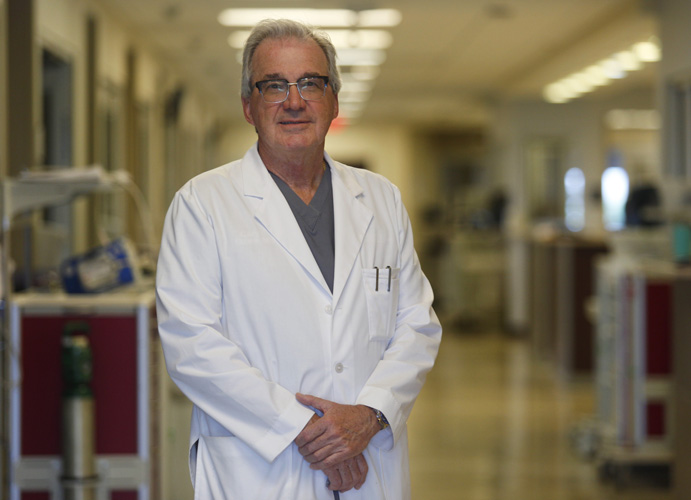 Certainly, $350-million health mergers and acquisitions are almost never launched, debated or decided upon because of one individual.
Nonetheless, when the world-renowned Cleveland Clinic agreed to invest some $250 million in Vero Beach's hospital and assume over $100 million of the hospital's debt, Dr. Cary Stowe and his colleagues at the Welsh Heart Center played a far more significant role than many people realize.
Stowe, who came to Vero some 13 years ago from Florida Adventist Hospital in Orlando to build a top-flight heart center here, undoubtedly caught the Cleveland Clinic's eye.
In 2006 that would have been even easier. As Stowe explains, "for the first 14 months, I was the only cardiac surgeon here."
He was not, however, a complete stranger to Vero Beach residents.
"I had taken care of a vast majority of the patients from here. They would be transferred to Orlando and I would operate on them there. So there were hundreds of patients here in the Vero Beach area that I had operated on" by the time he relocated here.
After Stowe was in Vero for about two and a half years, Dr. Mark Malias joined him at the hospital and together they "hand-picked" every member of a team that now includes anesthesiologists, interventional cardiologists, perfusionists, physician assistants and, of course, surgeons.
"We take a special interest in each member that joins the team," Stowe adds. "Their dedication to the patients and dedication to our mission, which is basically to provide first-class cardiovascular surgery," is what has helped this heart program grow.
And grow it has.
Going from a one-doc heart shop to a program with a fully functioning team of multiple, interacting specialists that is now consistently ranked by the Society of Thoracic Surgeons as one of the top cardiac surgery programs in the country is no mean feat.
That STS recognition is especially important in Stowe's eyes because it is "data-driven."
"On each patient that we operate on for their heart, we fill out sheets that have close to over 1,000 points of data," Stowe explains, "It's about five or six pages long. And we have done that since day one."
The data are then analyzed and compared against all the other cardio programs – over 2,500 of them – in the country and is updated every six months.
While many in this area may be anticipating big changes in the way Vero's hospital operates after joining with the Cleveland Clinic, one thing that likely won't change much is the way the Welsh heart team approaches each surgery including the newest trans-aortic valve replacement (TAVR) procedures.
"Every morning – like this morning when we did two TAVRs – we meet at 7 a.m. with the entire team. We go through each one of these cases. We go over the films, we look at everything and we assess that patient and potential complications or problems or things we may need to think about during that case from each perspective.
"When we come out, we have a game plan. We have looked at all the potential pitfalls that could happen, what are we going to do if that happens, and I just think it's a great way to practice. That patient is getting the best of knowledge from a group of talented people."
That, incidentally, is about as close to a mirror image of the Cleveland Clinic's famed "caregiver team concept" as you can get.
While Stowe may be happier talking data and bragging about his team members, this particular cardiovascular surgeon also appears to enjoy the time he spends with his patients. "Dr. Malias and I round on every patient as a team," Stowe says. "I always tell the patients, I'm the one with hair."
Being data-driven does not mean avoiding new procedures or approaches. Stowe and Malias were among the first Florida physicians to perform those TAVR procedures mentioned earlier.
And Stowe sees a big future for other trans-catheter valve surgeries.
TAVR is for the aortic valve. That leaves three other heart valves which can – and sometimes do – require replacement: the mitral, tricuspid and pulmonary valves.
"I think [the trans-catheter approach] will be adapted to all valvular replacements," Stowe says. "They're already working on the mitral valve to do that. It's going to be somewhat more complex because with the aortic valve you basically have a valve inside of a cylinder. The mitral valve is basically located between two chambers of the heart, so the structure that will support the [new] trans-catheter valve is going to be very different."
And it will take time.
"To give you an example," Stowe continues, "I think there's something like 68 prototypes for the mitral valve right now. So, I'm sure one or two or maybe three of those will ultimately work out, but right there it tells you, in development, there are a lot of mousetraps out there and most of them, the vast majority of them, will not pass the acid test in the long run."
Stowe also advises patience in judging the impact of the Vero hospital merging into the Cleveland Clinic system.
Coming from a man with over 10,000 heart surgeries under his belt, that's probably sound advice.
"The fact that Cleveland Clinic has come here," says Stowe, "is going to be wonderful for the hospital, for the community and for the healthcare of this entire area. It's going to be great," but it won't happen overnight.
"It's going to take a few years. I think that's the thing the public has to recognize. It will be about 18 months to three years for the full integration," and while he freely admits "all of us would like to have it happen quicker," he is aware that anything really good is worth the wait: like – for example – starting to build a world-class heart center with just a single cardiac surgeon.
Dr. Cary Stowe is the Director of Medicine at the Welsh Heart Center at the Cleveland Clinic Indian River Hospital. His office is at 3450 11th Court, Suite 105 in Vero Beach. The phone number is 772-563-4580. n