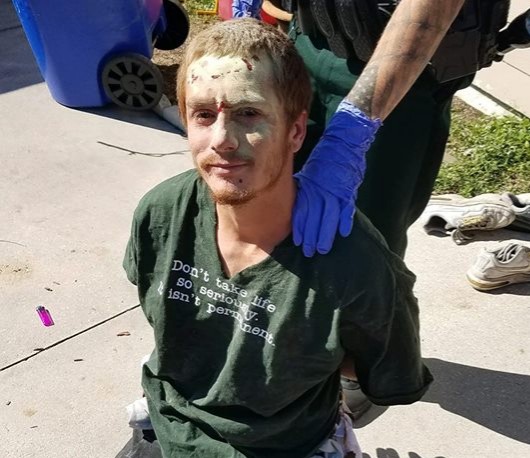 Photo contributed by Indian River County Sheriff's Office
INDIAN RIVER COUNTY — A 27-year-old man was arrested after he fired a round at another man and then caused a standoff with deputies at his home that lasted more than an hour, deputies said.
Deputies were forced to shoot a less-lethal round at the man, identified as Gene Lee Franklin II, reports show. Franklin suffered a cut on his hand from the round, authorities said.
The round contained "O.C." powder, or pepper spray, which covered Franklin's face after he was hit, reports show. Three children inside the home – ranging from 6 months to 6 years old – appeared shaken and were crying, reports show.
Deputies arrested Franklin, of the 200 block of 6th Court, on a variety of charges including attempted murder, three counts of child abuse, aggravated assault with a firearm and discharging a firearm in public. Franklin was held Tuesday at the Indian River County Jail on $851,000 bond.
Indian River County deputies responded to a shooting about 1 p.m. Sunday in the 600 block of 3rd Street Southwest. A man told deputies he saw Franklin walk to a sports utility vehicle and began to argue with the driver, asking the woman if she called law enforcement on him regarding a welfare check on his child, reports show.
The man said he approached Franklin and stated he was the one who called law enforcement. The man and Franklin began to argue when Franklin pulled out a black handgun and fired it in the man's direction, reports show.
The man ran away from the area while Franklin fled on foot traveling northbound on 6th Avenue Southwest. Deputies found a single .40 caliber shell in the area, reports show.
The next day, deputies surrounded Franklin's home. Deputies knocked on the door and identified themselves to Franklin, who was seen opening and closing the blinds, reports show.
Deputies said they ordered Franklin to exit the home, but he refused. Franklin was seen smiling and waving to deputies while holding his cell phone up, as if he were recording, reports show.
After an hour of waiting, deputies fired a 40 mm less-lethal round, which struck a window and hit Franklin in the hand, reports show.
Franklin immediately surrendered to deputies, authorities said. Franklin admitted being in an argument the previous day, but denied using a gun, reports show.
Deputies arrested Franklin and took him to the county jail. Franklin has an arraignment at 8:45 a.m. June 7, court records show.