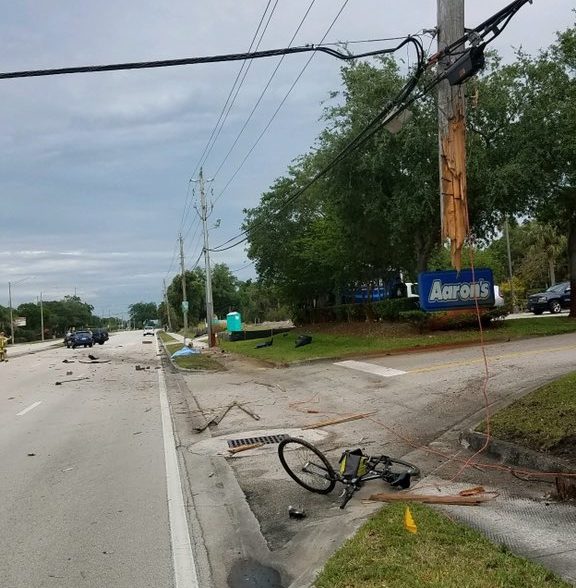 Photo provided by Indian River County Sheriff's Office
INDIAN RIVER COUNTY — A 46-year-old bicyclist was killed in a multi-vehicle crash Sunday, with one vehicle striking a power pole, causing a brief outage at nearby businesses, highway troopers and fire rescue officials said.
Florida Highway Patrol identified the bicyclist as a Vero Beach man. The man's name will be released pending notification of family members.
Troopers were investigating if alcohol played a factor in the deadly collision, FHP spokesman Alvaro Feola said.
The wreck involving the bicycle and three sports utility vehicles happened about 4 p.m. Sunday at State Road 60 and 50th Avenue, according to FHP. The driver of a Dodge Durango, 51-year-old Lisa Goldenberg, of Pompano Beach, was traveling eastbound on S.R. 60 in the outside lane when she tried to pass a Subaru Outback.
The Dodge side swiped the Subaru and then veered in a southeast direction, troopers said. The Dodge traveled onto the sidewalk, struck a utility pole and then struck the bicyclist.
Emergency responders pronounced the bicyclist dead at the scene, Indian River County Fire Rescue Battalion Chief Kyle Kofke said.
Troopers said Goldenberg drove the Dodge back onto S.R. 60, where she struck the back of a Nissan Armada.  Goldenberg suffered serious injuries and was taken to the Indian River Medical Center, highway troopers said.
The occupants in the other two vehicles, who were all Vero Beach residents, were not hurt.
The Subaru driver was identified as 71-year-old Jay Baltuch, highway troopers said. The driver and passenger of the Nissan were identified as 76-year-old Harold Leh and 75-year-old Janet Leh.
The crash closed eastbound S. R. 60 from 53rd Avenue to 43rd Avenue, Kofke said. The street reopened about three hours later.
It was unclear when power was restored to the businesses. Troopers continue to investigate the deadly wreck.