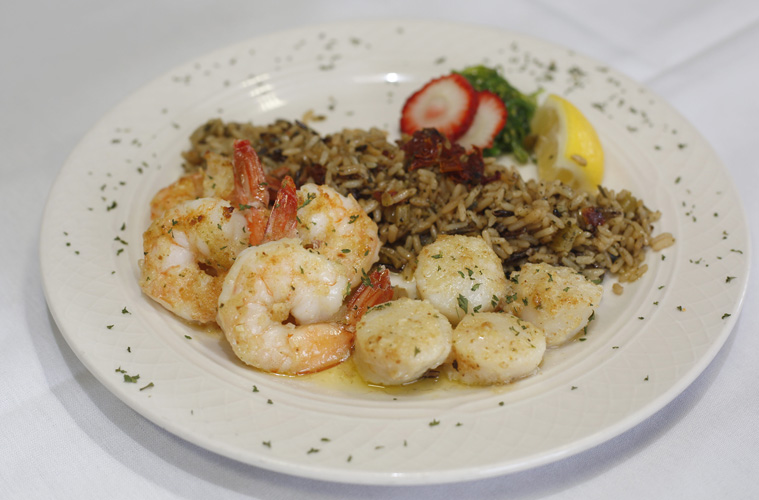 There was certainly no sign of the season slowing down when we dined last Friday night at Joey's Seafood Shack. Arriving at 7:30, fortunately with a reservation, only the table they were holding for us next to the piano was open.
On Friday and Saturday nights, Joey's does a land-office business. The other nights, it's closed. So why would a seafood restaurant people clearly love only be open for dinner two nights a week?
"It's simple. We like to spend time with the family," says Kim Coveny, who together with Joey Fenyak has been running Joey's for what is now closing in on a decade.
As a result, Joey's has chosen to remain first and foremost a seafood market – the best place in Vero to buy beautiful fresh fish and take it home for grilling. I stop in there most every week.
But on those two end-of-week evenings, Coveny dims the lights, the place takes on an entirely different vibe, and those fortunate enough to nail down a dinner reservation get to enjoy the great seafood without preparing it themselves.
On last week's visit, we started with a bottle of very nice Lucie chardonnay, and a basket of tasty bread made it to the table even before the wine.
While pondering the menu, we decided to share an order of fried calamari ($17). The calamari were perfectly flash fried and extremely tender. An excellent start.
Next, I went for a bowl of the Manhattan clam chowder ($6) – a relatively light version of this tomato-based chowder – and my husband went with the lobster bisque ($11), which was very flavorful.
We probably didn't need the soup – even though it was very good – because we then were served the large Greek salads that come with all entrées. The salads included strawberries, which go surprisingly well with feta cheese.
For entrées, I had the seafood special ($41), and my husband ordered the Icelandic haddock francaise ($37).
My husband's haddock was a thing of beauty, lightly battered and served in a tangy lemon sauce with capers. The seafood special at Joey's is a heaping bowl of little neck clams, mussels, shrimp and scallops, served in either a white wine garlic butter sauce or a very light marinara sauce over linguini. I absolutely love this dish.
On previous visits, we have enjoyed the swordfish and broiled grouper, beautiful pieces of fish, again expertly prepared. And we also have given high marks to the Scottish salmon, which is served in a brandy cream sauce with sundried tomatoes, mushrooms and artichokes.
On this most recent visit, we concluded our evening with a delicious dark chocolate mousse. Dinner for two before tax and tip (and excluding wine) is likely to run $120 to $130.
Beyond the great food, this restaurant has the homey feel of an Italian family kitchen. On weekend nights, Joey's is a most enjoyable place to have a wonderful seafood dinner.
While there seems little chance of persuading them to expand the number of evenings they serve dinner, Kimmy urged us to remind readers that in addition to selling fresh fish, Joey's also serves lunch daily.
I welcome your comments, and encourage you to send feedback to me at tina@verobeach32963.com.
The reviewer dines anonymously at restaurants at the expense of Vero Beach 32963. n
Joey's Seafood Shack
Hours: 5 p.m. to 10 p.m., Fri. and Sat. only; Reservations strongly recommended
Beverages: Beer & Wine
Address: 1800 U.S. 1, Vero Beach
Phone: 772-918-8855
Photos by: Kaila Jones
Click HERE to see more or buy photos