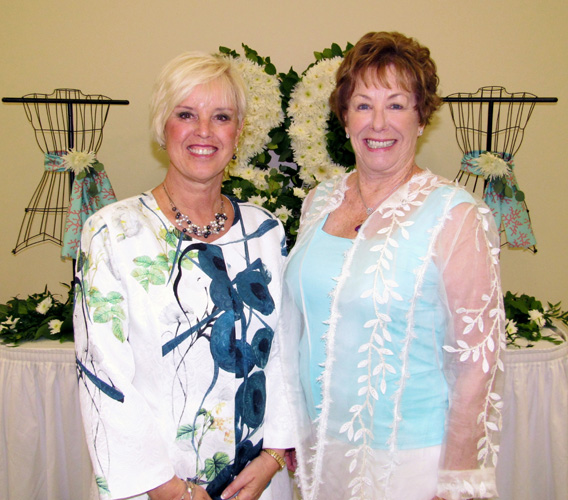 Stylish supporters of the Hibiscus Children's Center ushered in springtime last Thursday afternoon with a special 20th Anniversary Blue Ribbon Luncheon and Fashion Show at the Oak Harbor Club, in recognition of April as National Child Abuse Prevention Month.
Arriving guests mingled over champagne and mimosas – presented to them by distinguished 'Male Ambassadors' while perusing numerous silent-auction items before heading in for the main event, chaired this year by Sue Sharpe and Diane Wilhelm.
"I dare say, there are some of you in the audience who have been here all 20 years," said master of ceremonies Karen Loeffler, thanking everyone for their support before introducing guest speaker Suzanne Bertman.
Wearing a lovely 'blue ribbon' dress from Cooper & Company, Bertman said she has been a Hibiscus volunteer for more than 18 years, which has given her a unique perspective.
"I sometimes feel like I live in two realities," said Bertman, comparing her comfortable lifestyle with that of the 13- to 17-year-old abused, abandoned and neglected teens living at Hibiscus Children's Village. "That's a very different reality."
She noted that while the Village itself is beautiful, what is not beautiful is what brought them there. "Our children don't choose to live there. They are mandated to be there by either the courts or the Department of Children and Families, who take them away from the terrible situations they found them in."
While roughly 40 teens live at the Village at any given time, she said that on any given month, they receive 40 to 50 referrals from the state. "Ladies, that's a lot of children that are in a bad situation and need a place to live."
She spoke of siblings, a boy 16 and a girl 14, who were referred to them when the boy was arrested after breaking into his neighbor's house – for food. The parents were addicts and the children had no food. "They were literally starving and in survival mode. The boy had not been in school for six years."
Another boy puzzled his house parent by wanting to sleep on the couch rather than his room. The reason? The boy was terrified, having regularly been sexually abused in his bedroom.
Whether from sexual or physical abuse, neglect or abandonment, she said the children entering the Village are "very damaged" and are reliant on the "very special staff" at Hibiscus who keep them safe and cared for, offer structure while still allowing them to be children, and who provide a path to the future through such programs as Career Pathways.
The fashion show began during dessert, with Loeffler thanking Beth Sobol, of Sobol Fashion Productions, and her team of willowy Miami models, for directing the show the past 16 years.
Fashions were provided by Pineapples, Sara Campbell Ltd., Sassy Boutique, J. McLaughlin, Cashmere Beach, Frances Brewster and Cooper & Co., with men's fashions by Vernon Scott and J. McLaughlin.
Photos by: Mary Schenkel
Click HERE to see more or buy photos