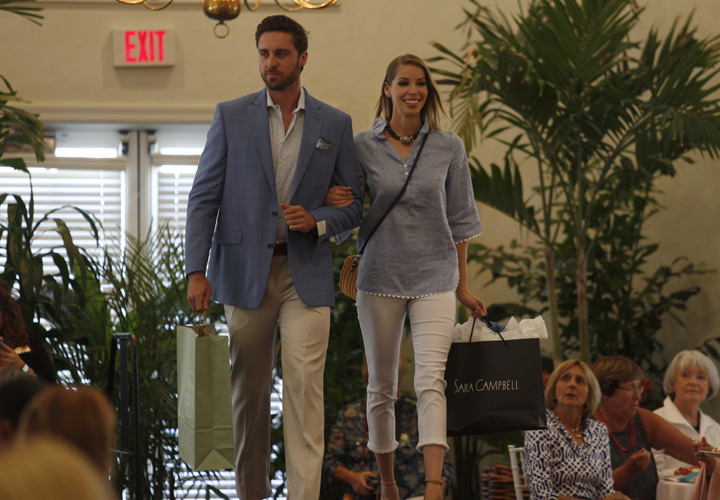 Like a beautiful bouquet of flowers, the latest in colorful spring and summer looks were spotlighted last Thursday afternoon at the Blue Ribbon Luncheon and Fashion Show at the Oak Harbor Club, a benefit for Hibiscus Children's Center. The show was professionally produced by Miami-based Sobol Fashion Productions.
The barrier island boutiques in this 20th Anniversary Celebration were Pineapples, J. McLaughlin, Sara Campbell Ltd., Cashmere Beach, Frances Brewster, Sassy Boutique and Cooper & Co., with a selection of men's fashions from Vernon Scott Resort Wear and J. McLaughlin.
The fashions of Pineapples were first on the runway with a powder blue shift by the Canadian based Volt Design, whose clever artsy design could be worn front or back.
Tolani silks, including a short multicolored print dress designed by Nicki Hilton for Tolani and a stunning full-length black-and-white floral dress that fairly floated down the runway, have the added attraction of being 100 percent washable.
Frank Lyman, another Canadian favorite, was represented with a romantic hot-pink, one-shoulder dress and another with a solid white off-the-shoulder ruffle and slim-fitting, long black mermaid-style skirt.
Classic blue and white were seen in a striped Peruvian cotton dress by Duffield Lane and a Navy top by Terra, with a wired collar that can be molded to your liking, was paired with cropped white jeans.
Sara Campbell's first look featured this year's linen "Mo Blouse." "Every year we do a different look and she donates $20 for every blouse to the Leukemia and Lymphoma Foundation," explained Patty Casale.
A designer out of Boston, Sara Campbell, offers casual to formal, all made in the U.S. using European fabrics and, as Casale notes, "we do a limited edition of all of our dresses, so you won't see yourself at every wedding."
Animal prints continue to be popular and midi or tea-length dresses are all the rage – a stunning black-and-white dress with a tulip skirt was the ideal example.
A salmon sleeveless dress textured with a bit of fringe showcased this year's Pantone color, and a sweet blue-and-gold dress was decorated by angel wing sleeves. "She always does a little extra – a little twist of the color palate, a bow, some fringe," said Casale.
"When Deana and I were on a buying trip for Sassy last year, we noticed several consistent trends for spring," said Tammy Theoharis, Sassy Boutique co-owner with Deana Marchant. "We love mixing patterns, color blocking, ruffled blouses, floral and scarf prints and embroidery."
"Tory Burch has done a lot of bird prints this year and they're gorgeous, with citrus and greens," said Theoharis, as highlighted in a bird-centric shirt paired covering a bathing suit top and striped cabana pants.
A pink striped off-the-shoulder cotton-jersey midi dress by Mark Sykes for MDS Stripes could easily transition from day into evening, and mirrored embellishments dotted a retro ethnic-influenced Juliette Dunn sundress.
"We are excited to bring back some new designers for small special collections," said Theoharis, referencing Alice + Olivia, whose silky pants set showed the charm of mixing floral prints with scarf prints, and their gorgeous bright poppy ruffled jumpsuit followed the current citrus color trend.
The nautical look is always in fashion at J. McLaughlin, which stayed true to its iconic wavesong boat neck tees and, for a more tailored look, their famed Madeira cloth Lois blouse.
"Linen dresses are back in stock; they're a big favorite," said Cindy Williams of their classic shirtwaist. Another favorite is their sleeveless Sophia shift, this year a soft blue with a gold heraldic design.
A printed silk scarf was incorporated onto the front of a lightweight Navy sweater – perfect for a summer night – as were luscious cashmere cardigan wraps in salmon, mint and a soft baby pink.
Cashmere Beach fashions were also awash in spring colors, from a floral three-quarter length sleeveless shift to cotton blouses, and with buttery soft cashmere cardigans by Kinross Cashmere and by White + Warren, augmented by scarves to give extra pops of color. Tops were paired with sleek pants by Adriano Goldschmied and Cambio in a variety of lengths, from full to ankle to cropped.
"There's a lot of tailored outfits this season; like nice tailored blazers and tailored pants," said Niki Ryba. Indeed, a tweed Max and Moi blazer with hints of gold that could easily take simple white pants from day into evening.
"Spring is full of color this year," said Cathye Motta of Frances Brewster, as evidenced by a beautiful multicolored palazzo pants outfit by the Italian company Bessi, which the boutique has carried for 60 years.
A white Algo alligator handbag was perfect with the pert Navy blue Joan Vass dress with white trim, and another sleek Vass sheath emitted a hit of Mondrian with its black-and-white color-block design with chartreuse accent.
"Dusters are huge; both casual and dressy," said Motta, and a textured gray Connie Roberson duster took a black top and pants to a new level. Roberson was also half of a classically sophisticated outfit – her mid-length, black wrap-around skirt was topped by a luxurious Swiss cotton Algo white blouse with soft ruffles on the collar.
"Shirtwaist dresses have been around for years and now they're making an appearance again; they're coming back around," said Cooper and Co. owner Melinda Cooper, who added little white gloves to a retro, flash print Samantha Sung shirtwaist dress, while a white Bagutta shirtwaist introduced pops of orange on the dress lining and collar.
A colorful, reversible jacket by the Italian designer Etro offers wearers the option of displaying either side, and a lush, flowing mid-length Carolina Herrera tie-back chiffon was like a soft field of flowers – the ultimate in femininity.
A short and sassy dress by Zimmerman, a new company out of Australia, had an interesting feature – a tight, spaghetti-strap inside slip peeking out to an identical pattern on the outer fabric. "And you can also wear that little slip by itself," Cooper said.
Her spectacular evening selections included a sophisticated champagne chiffon tea-length dress with scattered white pearls on embroidered flowers. Cooper kept the finale gown a surprise even to the other boutique owners, a beautiful one-of-a kind couture gown of peach champagne with a full layered skirt and train and exquisitely embroidered flowers.
Photos by: Kaila Jones
Click HERE to see more or buy photos