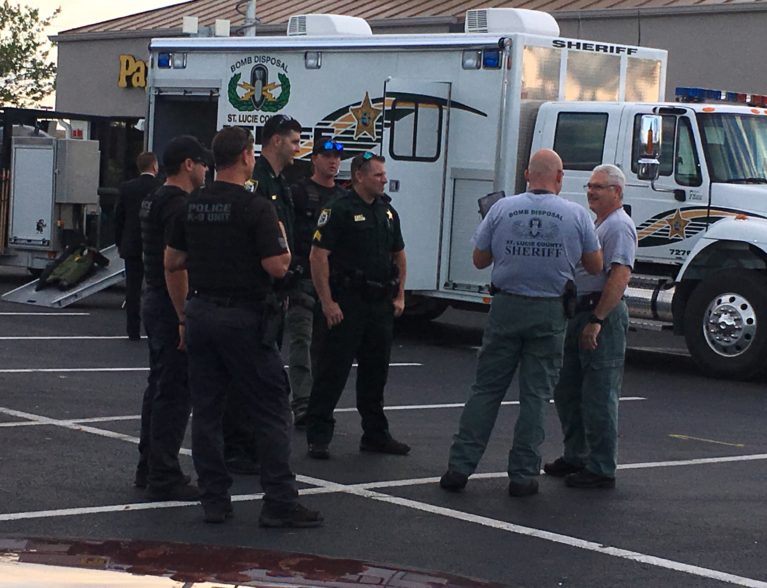 INDIAN RIVER COUNTY — A suspicious device that caused several store evacuations and was later deemed to be non-explosive was intentionally left in a parking lot to appear as a potentially explosive item, deputies said.
Indian River County sheriff's spokesman Maj. Eric Flowers said incident was very serious. Deputies will investigate if it was a hoax and determine if charges will be filed.
"We are thankful for our partnership with the St. Lucie County Sheriff's Office and their bomb squad team," Flowers said. "Their immediate response allowed us to contain a potentially dangerous situation and quickly determine that the device was not an explosive."
The device – described as a box that appeared to have wires sticking out – was put on a concrete post at the bottom of a light pole, Flowers said. The incident prompted several store evacuations, which were lifted shortly before 7:30 p.m.
"It was a decent-sized package," Flowers said. "We wanted to make sure we had a large enough area evacuated in case something were to happen."
Indian River County deputies were looking at surveillance footage from surrounding stores to see who placed the item on the post.
*Click the audio icon in the lower right hand corner for sound.
.Indian River County Sheriff's Office spokesman Maj. Eric Flowers talks about suspicious device that prompted evacuations of several stores and the response of a bomb squad unit. The device was found in a Bealls parking lot in the 5800 block of 20th Street in a Shopping Plaza near the Indian River Mall. #VeroNews

Posted by Nick Samuel on Wednesday, April 10, 2019
A person flagged down deputies after spotting the device about 5 p.m. Wednesday in a Bealls store parking lot, Flowers said. The store is located in the 5800 block of 20th Street, near Target and Office Depot.
Several stores and parking lots were evacuated and the St. Lucie County sheriff's bomb squad responded to the scene. Sheriff's K-9 units combed the parking lots for evidence as the bomb squad sent an unmanned robot to inspect the device.
The bomb squad determined the device was non-explosive about 7 p.m., Flowers said. The evacuation was lifted shortly after as the bomb unit recovered the device.
"The (St. Lucie County) sheriff's office is always pleased when it can lend its services to help a neighboring county," St. Lucie County sheriff's spokesman Bryan Beaty said.
Photos by Nick Samuel