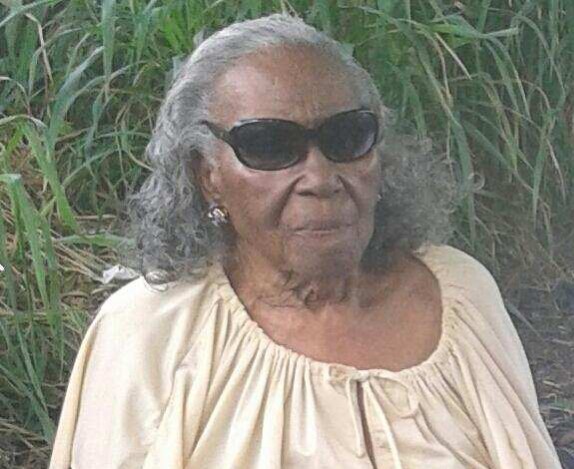 Photo provided by Historical Society of Gifford
GIFFORD — Jennie Barnwell, the widow of Negro League Hall of Fame Baseball Player Ernest Barnwell Sr. and a community activist in her own right, died last week.
She was 104 years old, family members said.
"She loved strong and believed in prayer," said Barnwell's great-great niece, 46-year-old Vero Beach resident Katherine Allen, who took care of Barnwell before she died. "She said she would not have made it this far without God. I'm grateful just to have been in her life."
Barnwell was born Oct. 5, 1914, family members said. The woman lived through several wars and 18 U.S. presidents.
Barnwell was part of a group of women who helped to secure funding for a new building for St. Peter's Missionary Baptist Church by cooking and selling dinners in the 1970s, family members said. She was the oldest living resident in town, according to the Historical Society of Gifford.
The Barnwell's were married for 53 years before Ernest Barnwell died in 1996, family members said. Jennie Barnwell died more than two decades later on April 3 while in hospice care in Vero Beach.
The couple were both considered pillars of the community.
Ernest Barnwell made his mark in the Negro League for 19 years and played for several teams, including the Miami Ethiopian Clowns, Daytona Beach Black Cats and Jacksonville Red Caps.
Playing for Jacksonville, Ernest Barnwell had the opportunity to pitch against the great baseball pitcher Leroy Robert 'Satchel' Paige, according to his obituary. While Ernest built his legacy in baseball and also as a businessman in lawn care maintenance, Jennie Barnwell created a legacy of her own.
"There is no Jennie without Ernest, and there is no Ernest without Jennie," Barnwell's great niece Kathy Robinson said.
Helping others
Jennie Barnwell was a second mother to many.
Her great nephew, Perry Green, said the woman took him in at age 11 after his other aunt who took care of him was murdered in 1972. Green said Barnwell, who worked in domestic care, helped to put him and two of her nieces through college.
"She was the only mom I knew," said Green, 56, of Jacksonville. Jennie Barnwell, who did not have kids of her own, helped to raise many other relatives, including her step-grandson Ernest Barnwell III.
"She taught me and Perry how to clean and cook," Ernest Barnwell III said. "Lots of things I do now comes from her. She was the best in the world."
Ernest Barnwell Sr., who has a host of grandchildren and great grandchildren, remarried to Jennie in 1943 following the death of his first wife, family members said.
Community Involvement
As the decades rolled on, Jennie Barnwell and sisters from her church would cook and sell pies, cakes and dinners every Saturday morning to get funding for a new building, Green said.
The group's dream came to fruition in the 1970's, when they moved into a new location for St. Peter's Missionary Baptist Church, according to family members. Barnwell was a longtime member and mother of the church.
"It's still a beautiful facility today," Green said.
When Barnwell was 101 years old, she received a birthday card from former President Barack Obama and former First Lady Michelle Obama. The Historical Society presented the woman with the keys to the city of Gifford in June 2016, according to organization's secretary Wanda Scott.
The Historical Society of Gifford also gave Barnwell a lifetime proclamation for her contributions to the community.
Longevity
Katherine Allen remembers asking Jennie Barnwell the secret to a long life.
Barnwell replied, "Don't stress. What you can't handle, give it to God. Stress kills."
"She loved strong and believed in prayer," Allen said. "She said she would not have made it this far without God."
Allen remembers Barnwell dancing at her 100th birthday party that was hosted by family members. Barnwell, who was still walking at the time, told Allen it was the best party she had all her life.
"It was just amazing," Allen said. Allen said Barnwell loved western shows and Monday night World Wrestling Entertainment RAW wrestling.
Her favorite song was 'Walk with me Lord,' Allen said. Barnwell would also make hats in her spare time.
Funeral service
The wake for Jennie Barnwell is scheduled from 5 p.m. to 7 p.m. Friday at St. Peter's Missionary Baptist Church, Robinson said. The funeral is set for 11 a.m. Saturday at the church, located at 4250 38th Avenue.
"She was an awesome, strong woman," said Barnwell's step grand daughter, Tracy Barnwell, 57, of Gainesville.