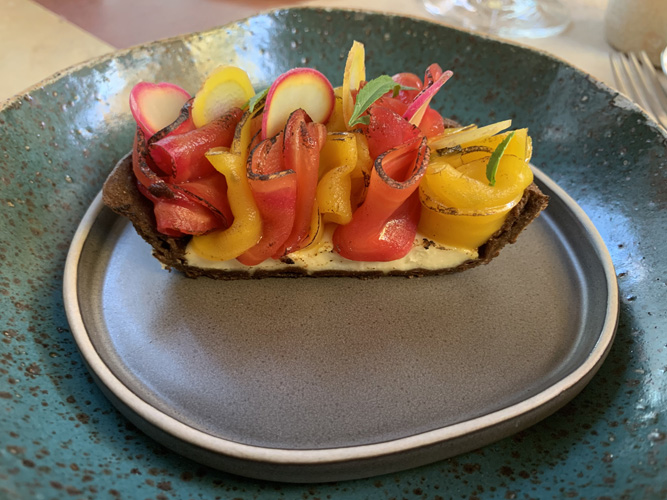 How does one decide where to eat when you have one-day in a city that's the hottest spot on the world dining scene?
On my last visit to Lima a few years ago, I tried one of the restaurants of chef Gastón Acurio, a leader in fusing the country's Andean, Amazonian, Japanese and Chinese food cultures into a Nuevo Peruvian cuisine.
But on this trip, I wanted to try Kjolle, a restaurant opened last summer by Pia León, who just four months later was named Latin America's Best Female Chef.
Chef Pia, who is only 32, had until recently been working side-by-side with her better-known husband, Chef Virgilio Martínez, running the kitchen of one of the world's top-rated eateries, Central Restaurante.
Kjolle now shares a modernist building with Central – which is still fully booked months in advance – and Chef Pia has designed the dishes at her new restaurant to showcase Peru's herbs, vegetables and tubers.
To prepare our palates for a nine-course tasting and wine-pairing menu, we were served a subtle juice made from Peruvian fruits chilled by a beautiful ice cube containing edible flowers!
While I was still savoring a slice of dense, freshly baked bread (to die for) served with pesto and creamy Andean butter, the waiter brought the first course – sea bass and clams, a cevice-like dish prepared with black mashwa, Amazonian nuts and macre.
Next was one of the highlights of the meal, fresh scallops with frozen pacae and a silky cold juice of lime and ginger. The sweet frozen pacae was a perfect match for the delicate scallops.
This was followed by a colorful dish formed from slices of yucca, olluco and potato. Served with a bit of goat cheese, some of the tubers had been pickled and were acidic, while others were sweet or grilled ever so slightly imparting a hint of smoke.
We then moved to a cured duck tartar mixed with squid and onion, which gave it a bit of crunch. We were told to spoon the tartar into what looked like a pita pocket made from a grain called kaniwa, and eat it with our hands.
The fifth course was called vegetable diversity, and consisted of a combination of earthy flavors – yacon, coffee broth, chonta and artichoke.
After that came two meat courses. The crispy pork jowl prepared with coconut, cauliflower and kiwicha was my husband's favorite course. It was followed by a beef dish served with burnt corn, macambo and paico.
Our luncheon concluded with two desserts. The first, frozen pomerose, was less than wonderful. But the final taste of Kjolle was a perfect one, combining the classic flavors of bitter chocolate and Amazon honey with just a little bit of chirimoya. Wow!
While most of the dishes were comprised of simple Peruvian ingredients, they were rich and complex in flavor, textures and visual elements. Chef Pia's love of her country's flora and fauna shines through in her food. She has given birth to a restaurant that seems likely to get increasing attention in the years ahead.
I welcome your comments, and encourage you to send feedback to me at tina@verobeach32963.com.
The reviewer dines anonymously at restaurants at the expense of Vero Beach 32963.
Photos by: Milton Benjamin
Click HERE to see more or buy photos