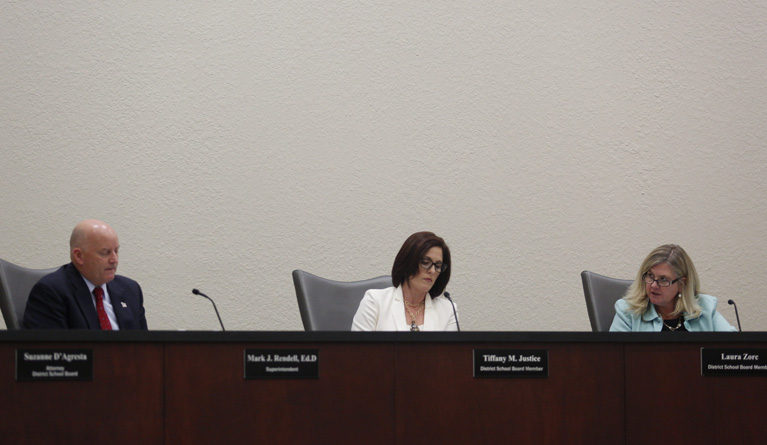 There's no sense in wasting words on Tiffany Justice, whose unwavering loyalty to and relentless defense of Schools Superintendent Mark Rendell is as disturbing as it is curious.
She's determined to save his job, even though Rendell has said publicly he is actively pursuing another one, and she's desperately scrambling to rally her troops in a transparent effort to politically intimidate the School Board members who want to fire him if he refuses to resign.
So I'll address this column to Laura Zorc and the board's three newest members – Teri Barenborg, Jackie Rosario and Mara Schiff – and anyone else in the county genuinely concerned about the precarious and potentially perilous position in which Rendell has put the school district.
Let's start here:
nGive no credence to the feebly concocted campaign designed to bolster the false narrative that Rendell enjoys significant support in the community.
nPay no attention to the solicited emails, online petition and social-media efforts backing the superintendent.
nIgnore the conveniently timed media appearances designed to spin alternative facts, sway public opinion in Rendell's favor and elicit sympathy for him.
Though Rendell is a first-time superintendent, he's not a rookie. He's in his fourth year as the school district's CEO.
He has had plenty of time to fix the problems he inherited and move our schools in the right direction.
Instead, after nearly four years of Rendell's leadership, the school district finds itself in a financial and administrative mess.
Those circumstances, however, merely serve as the backdrop for recent events, including last week's tumultuous and sometimes hostile School Board meeting.
Only days after receiving a March 20 letter informing them that Rendell – who has faced mounting criticism that put his job in question – retained legal counsel to advise him in contract discussions, board members were blindsided Monday of last week by the additional news that their superintendent was applying for jobs outside the district.
That one-two punch, particularly the jolt from Rendell's announcement that he's looking for the exit, left School Board members reeling and wondering what they'll do if the superintendent gets another job and quits in the next couple of months.
And for good reason: There's no one on the payroll ready to step in for Rendell – whose contract requires that he give only 30 days' notice – and get the district through the end of the school year.
There's no chief financial officer, since Rendell ran off Carter Morrison with a bogus allegation that Morrison undermined him and the School Board while working on the 2019-20 budget.
There's no assistant superintendent for human resources, since Rendell eliminated the position during an administrative reorganization in 2017.
If Rendell bolts, there would be nobody to oversee the budget process or the hiring of teachers and staff for the next school year.
It should surprise no one, then, that Schiff, who was clearly uncomfortable with the contentious tone of last week's meeting, said the thought of a relatively inexperienced board entering the budget season without a superintendent or CFO "terrifies" her.
It should.
During an interview on a local radio show last week, Rendell said he already had applied for a job he "found appealing" – more appealing, apparently, than his current job, which wasn't all that secure in the face of the serious financial problems and scandals that have beset the district.
Rendell's current contract will expire at the end of the 2019-20 school year if it's not extended, and the School Board has until the end of July to make a decision about his employment.
He needs at least three of the five board members to approve a contract extension. So he and Tiffany Justice have some work to do.
Rendell already has lost Zorc, the School Board chairman, who at a recent meeting described his revelation that he is seeking other employment as an "aggressive act" and "bullying tactic," and responded by asking him to resign.
She also urged board members to begin the search for a new superintendent.
It was not an overreaction.
Zorc's request has stirred controversy in the community and conflict among board members, but she did what needed to be done. Her foresight, leadership and moxie should be applauded, not attacked.
The board cannot allow Rendell to call the shots – and, at the moment, he can.
We don't know if Rendell truly wants a different job, where he can start over and try again, or if he simply realizes his chances of getting a contract extension are dicey and he'd rather not endure a year as a lame-duck superintendent.
We don't know if Rendell really wants to stay and he's trying to gain leverage from the threat of leaving with only 30 days' notice at the worst possible time for the district. Or if he's given up on this job, and is daring the board to fire him so he can walk away with a big severance check.
We don't know why he hired a lawyer, other than to "protect his interests," as he told the board.
It is telling, though, that Rendell did not try to engender any good will by offering to go beyond the 30 days' notice required in his contract, especially with the district facing so many challenges.
Maybe he will, eventually, perhaps as a negotiating tool. But I wouldn't bet on it.
If the board decides to terminate his employment, Rendell would receive a severance package that includes pay for 20 weeks of his $163,000 annual salary and for unused vacation time.
Zorc estimated the total cost of this severance package would be about $70,000.
That might sound like a lot of money, but it's only a fraction of the costs of the legal and investigative fees incurred by the district as a result of Rendell's wrongheaded decisions over the past several years.
So paying him off and moving forward with a new superintendent might be money well spent.
If the board rejects Zorc's recommendation that Rendell be fired if he doesn't resign by July 23, it will be more difficult to immediately start an effective search for his replacement.
That's because most top-shelf candidates won't apply for a job that isn't vacant and might not be until the summer 2020.
Zorc knows that, and she knows Rendell knows it, too. That's why she spoke up, despite the sometimes-fierce criticism that action has provoked from the superintendent's allies.
As expected, Justice has sprung to Rendell's defense, challenging Zorc's claims and opposing any move to fire him, at one point ridiculously suggesting that the board extend the superintendent's contract through the end of the 2020-21 school year "to give him job security."
It went nowhere, as did her over-the-top gushing over Rendell's job performance and questionable claims that she had been inundated with letters of support for the embattled superintendent from the community.
To be sure, Rendell has enjoyed a few successes since being hired here, but there have been too many scandals, controversies and other problems – many of his own making, some of them costly – to say he has been successful.
Can that change? Is it too late? Has too much damage been done to the trust and relationships between Rendell and a majority of the board members?
We know where Zorc and Justice stand. Rosario appears to be ready to go with a new superintendent. So Rendell's fate here probably will be determined by Schiff and Barenborg, both of whom said last week they weren't yet prepared to render a verdict.
They need to make a decision soon – before Rendell makes it for them, and leaves behind a worse mess than we have now.
Regardless of whether Rendell is fired or quits with 30 days' notice, the district and board will have to scramble. But in one case the board will be in control of events setting its own agenda; in the other, the board will be at Rendell's mercy.