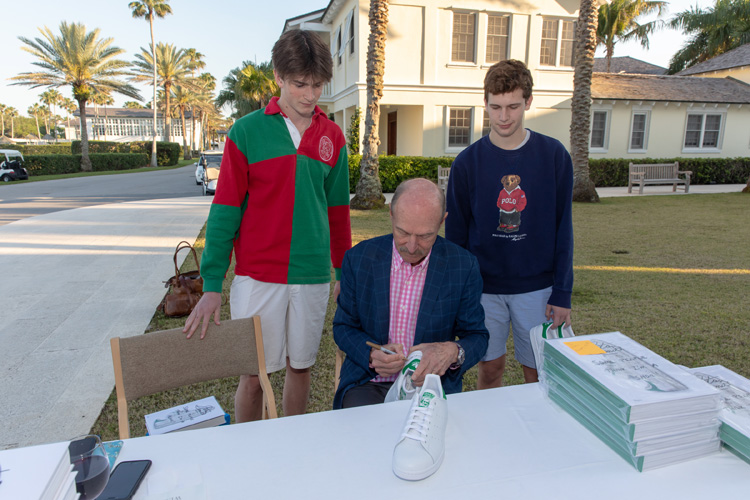 Windsor residents were delighted that tennis legend Stan Smith was able to squeeze in a visit to their upscale community during a world tour to introduce his book, "Stan Smith: Some People Think I'm A Shoe." Smith, who began his book tour last September, with signings in Europe, Asia and the United States, said with a smile, "Now Windsor – the highlight of the tour."
To tennis fans, Smith is known as a fierce competitor. A former world No. 1 player with 53 singles career titles, including Wimbledon and U.S. Open championships, Smith also holds 54 doubles career titles, including the Australian Open and multiple U.S. Open titles with partner Bob Lutz. But to many others, his name is synonymous with the iconic Stan Smith Adidas sneaker.
His five-pound coffee table book is defined by the New York Times as "a love letter to both the shoe and the man for whom it's named."
Smith also has a special connection to Windsor – in 1991 his firm designed the community's eight Har-Tru tennis courts.
"Our philosophy was to make the courts look more like a park, not a parking lot," said Smith. "This is one of the best facilities that we did."
Longtime friend Lee Fentress, whose law firm represented Smith when he turned pro, introduced Smith to the audience at the Windsor Town Hall.
"It's absolutely astounding that his contract has run this long," said Fentress of the five-decade-long Adidas endorsement. "Stan had an illustrious career and is truly a tennis legend. He ruled in the '70s and the '80s, a time when some of the great players were actually American. They hit the ball deep, cleanly, crisply, came to the net and had an all-court game. And Stan really epitomized that; a true statesman of the game, a sportsman and a true gentleman."
"It's fun to be back here and to see how this facility has just grown like crazy," said Smith, who shared stories and anecdotes about his entree into tennis, his celebrated career and his association with Adidas and the shoe that bears his name.
He took the audience back to his grueling 1972 Wimbledon win over Ilie Naăstase, adding, "that was a special moment; winning Wimbledon was one of my goals."
His affiliation with Adidas began about the same time, when the company wanted to have a stronger presence in the United States, and it has continued ever since.
"It's been fun to see people wearing the shoe," said Smith. He said there are now numerous versions and collaborations, even vegan tennis shoes endorsed by Stella McCartney – her picture on the right tongue and his on the left.
"I thought the shoe has done so well over the years, we should document it," said Smith of the reasoning behind the book, adding that he had enjoyed the process of compiling stories from his career and longtime association with Adidas.
To foster the same love of the game within the next generation of players, Smith, with Billy Stearns, opened the Smith Stearns Tennis Academy on Hilton Head Island, where he resides with wife Marjory.
Photos by: Denise Ritchie
Click HERE to see more or buy photos