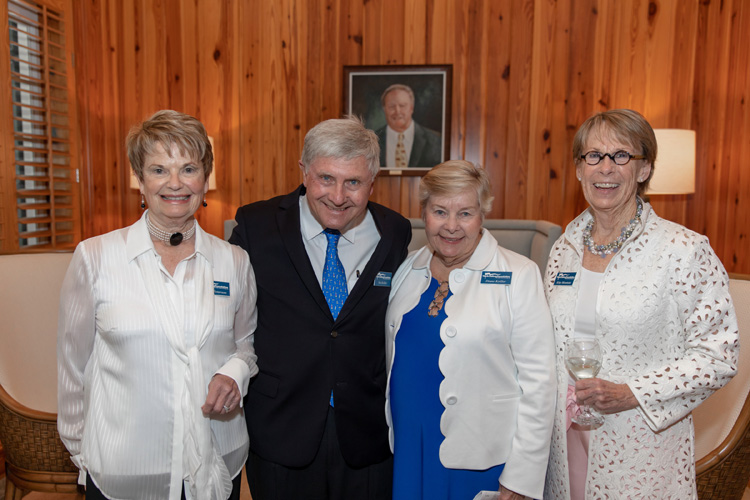 It was all smooth sailing last Monday evening at the Quail Valley River Club, where 260 supporters of the Youth Sailing Foundation of Indian River County gathered to celebrate the 10th anniversary of the nonprofit with a blow-out Rock the Boat fundraiser.
The dining room was in shipshape form, right down to sailboat centerpieces floating on ocean-blue seas, the grill held long tables of silent-auction items, and partiers later danced to Curtis Hill in the bar area. From the porch during the cocktail hour, attendees could watch sailors in action as they showed off their skills on the water.
The organization has grown exponentially since its April 2009 founding by Charlie Pope and Varoujan "Pops" Karentz to introduce youngsters to the joy of sailing using one-person Opti sailboats.
A knowledgeable crew of mariner volunteers expanded the program, and today YSF boasts four paid instructors and 40+ on-water volunteers. Additionally, 15 high schoolers are now U.S. Sailing Certified Instructors, and help staff the summer camps.
With the addition of C420 sailboats, they began a YSF high school sailing program and adult sailing classes; there is now a VBHS Varsity Sailing Team, a Junior Varsity Team and two Elementary School Squadrons. Additionally, more than 150 children now attend summer camps at The Moorings Yacht and Country Club and Quail Valley River Club, 40 through scholarships awarded to children at local nonprofits.
Supplementing the roughly 150 youngsters who sail free every week, 40 adults pay for sailing lessons.
"We have three special-needs sailboats, built in New Zealand," said Stu Keiller, YSF executive director, explaining that an adaptive sailing program for special needs individuals ages 14 to 61 began this past fall.
"We want to start renewing our fleet," said Keiller. He said a fund memorializing the late David Shelby enabled the purchase of eight brand-new Opti boats, but the need now is for additional C420 racing sloops.
During the live auction, YSF was offering Fleet Patron rights – $7,500 to purchase and name new 420s, or $2,000 to sponsor and name refurbished Mariner 19-foot day sailers.
"Our kids are competing against the top in the state, and when they go to the regattas a lot of the others are sailing brand-new boats," said Keiller. "We saw immediate improvement with the Optis. The kids immediately became more competitive, but more importantly it lifted the whole program. We think that getting the 420s is going to make a real boost to that program also."
Keiller said they now have a wait list for all of their programs, adding "we're constrained mainly by not having enough qualified instructors."
Their ultimate goal is to build a Community Sailing Center, offering such amenities as boat and kayak ramps, classrooms, boat storage and rentals, which would enable them to provide "educational, recreational and competitive sailing programs for all ages."
For more information, visit ysfirc.org.
Photos by: Denise Ritchie
Click HERE to see more or buy photos