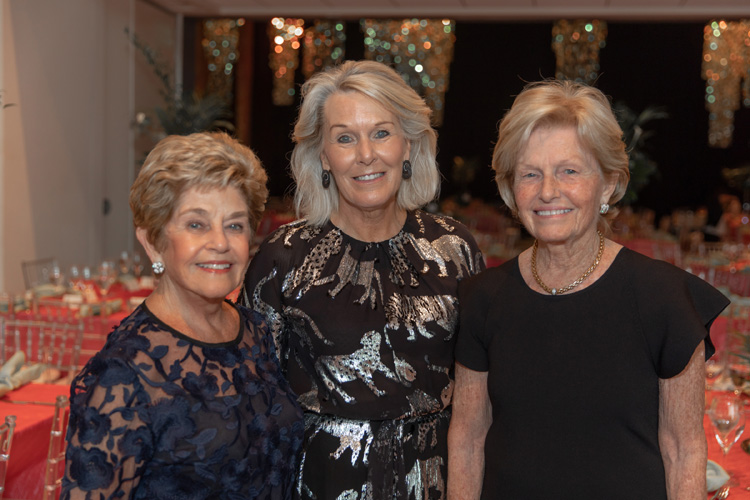 Laughter was the name of the game last Tuesday evening when comedian Jay Leno stepped onto the Stark Stage and simultaneously charmed and insulted a packed audience during this year's annual Riverside Theatre Gala hosted by the Friends Committee.
Co-chairs Anne Blatherwick, Debbie Weise and Sandy McManus, with the support of their committee and theater staff, outdid themselves with this year's successful event. With annual ticket sales covering just 50 percent of the cost to operate the theater, this annual fundraiser plays a crucial role in continuing to make Riverside Theatre a community gem.
Blatherwick, who served on the very first gala committee about 12 years ago, said she and her colleagues utilized a similar format to that one when planning the 2019 gala.
"Bernadette Peters performed at our first gala. We saw then how a well-known name really draws in a crowd," said Blatherwick, adding that at more than 470 guests, this year's event had drawn the largest attendance to date.
"Theater is so important. There's something about live theater that's so wonderful. It just brings something to everyone," she added.
"This is a really special night for the theater," Allen Cornell, Riverside's producing artistic director said to the audience. "Riverside is one of the largest professional theaters in a very small town in America. It's remarkable in that sense, and we are very proud of that, but I am especially proud of all of you who support this amazing theater."
Playing off of the concept that there is no such thing as a taboo subject, Leno delivered his trademark wit, poking fun at everyday life and playing off of laughable situations everyone can relate to.
Leno segued from hot topics such as the #MeToo movement and politicians, to binge-watching television shows, our addiction to technology and even erectile dysfunction, recognizing that we can all see a little bit of ourselves in his quips.
After getting their fill of uproarious laughter, guests adjourned to the Orchid Lobby and Waxlax Theatre, which had been transformed into elegant dining settings; a glittering testament to all the drama and finery the theater has to offer.
The décor centered on rose-colored table cloths, with centerpieces of white calla lilies and beautiful green foliage. Pink-hued lighting added to the ambiance without upstaging a sumptuous dinner catered by Elizabeth D. Kennedy & Company that featured fillet of beef medallions and jumbo prawns, concluding with a decadent flourless chocolate cake.
Riverside Theatre's production of "'My Fair Lady" on the Stark Stage runs through March 31 and "Ghost Writer" on the Waxlax Stage runs through April 14. For information, visit riversidetheatre.com.
Photos by: Denise Ritchie
Click HERE to see more or buy photos