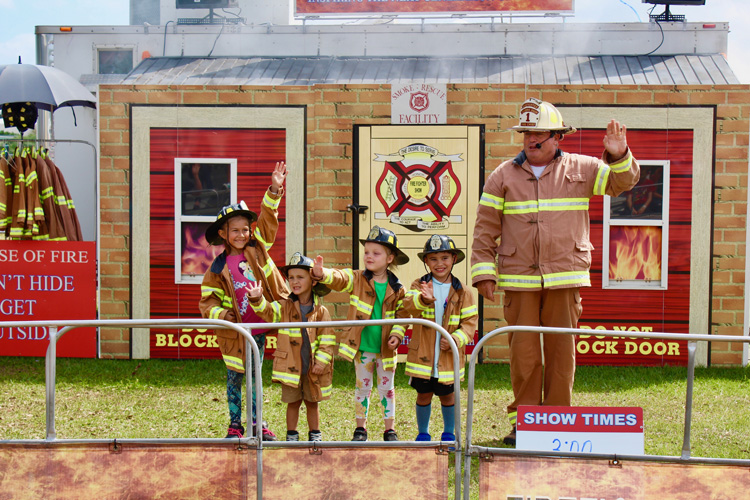 Mother Nature served up perfect weather for the 39th annual Indian River County Firefighters Fair, which helped draw upwards of 50,000 fair-goers to enjoy the sights, sounds, tastes and family fun that for many has become a tradition that has evolved over generations.
"We have many attendees who came in their youth and are now returning with their own children," said Wayne Howard, who has served as the fair's general manager since 2015.
"People still love the small-town feel of the fair, where they can participate in many of the demonstrations and activities. This year we had country star Clay Walker as our headline entertainer and it sold out very quickly. We also had the popular Circus of Illusion Magic Show, firefighter training shows, family feud games and a strong lineup of live bands on the main stage. All of those, combined with our ever-growing 4-H show and auction and midway, offered something for everyone, young and old."
Youngsters excitedly ran down the midway strip, jumping from ride to ride to test their nerves on thrill rides such as the Zipper, or to ascend into the starlit sky on the Ferris wheel for panoramic views of the city.
Carnies enticed walkers-by to try their luck at ring tosses, dart throwing or target shooting for a chance to win life-sized stuffed animals, and food vendors dished out such fair favorites as corn on the cob, elephant ears, hot dogs and barbeque.
But it was in the livestock pavilion where the real-life action happened, as members of local 4-H Clubs, supported by the Indian River County Youth Livestock and Horticulture Inc., prepared their livestock for show and sale.
Students were busy grooming and prepping their swine, rabbits, cavy, poultry, goats and steers in hopes of taking home prize ribbons and upping the sale ante for their entrants at the final auction. Scholarships were also on the line, as the 4-H programs are part of the Florida Cooperative Extension of the University of Florida, and 4-H members can apply for assistance based on their involvement and performance.
"I've been in the program for five years now," said 14-year-old Kennedy Grant, who had entered her swine, Dolly. "We care for them for about five months from the time they were piglets. We feed them twice a day, clean their cages and keep a detailed log of the costs associated with raising them. It teaches us responsibility and, ultimately, when we sell them at auction, it helps us pay for college."
During the Swine Showmanship competition, while the pigs were judged on constitution and overall condition, the student handlers were being judged on the behavior of the pig in the ring and how well it responded to gentle whip-tapping commands. As in life, some swine went rogue while others followed commands like an obedient dog.
Proceeds from the 10-day fair are used to help burn victims with their medical bills, provide scholarships for local students, and assist other charitable endeavors.
Photos by: Kaila Jones and Sandra Alexander
Click HERE to see more or buy photos