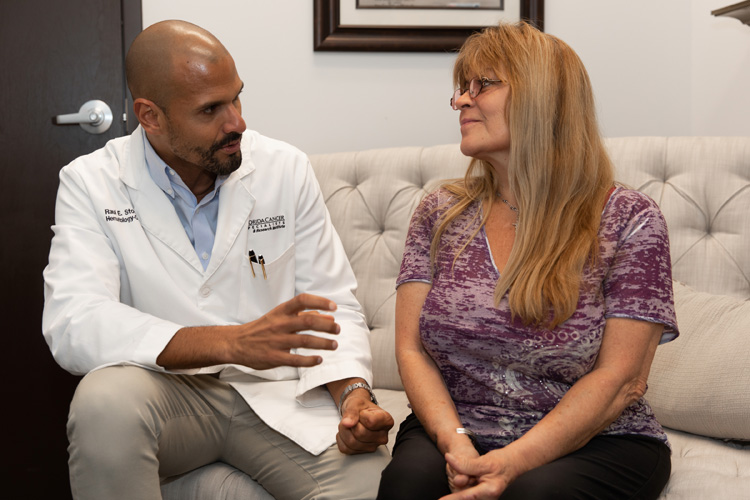 Gigi Garcia of Vero Beach has been battling colon cancer for four long years, but she remembers the day she got her diagnosis like it was yesterday.
"Since my mother and my grandmother had both died of cancer," Garcia recounts, "I kind of felt like my day might have come. I hate to say that, but it's true. I felt like a sitting duck.
"I actually went to the hospital to get my hip X-rayed," Garcia said, but that X-ray showed a tumor and that triggered an instant response from Florida Cancer Specialists oncologist Dr. Raul Storey.
She went through a multipart therapy that included surgery, radiation and chemotherapy that got rid of her tumor.
"Now we're just monitoring her," says Storey. "We do a scan every so often to monitor the disease to make sure it doesn't come back."
Asked what Garcia's prognosis is now, Storey flashes two thumbs up.
But, besides the exhausting and debilitating ordeal of surgery, radiation treatments and chemo, Garcia also faced another daunting problem – how to stay afloat financially while dealing with her expensive and potentially deadly disease.
As the Duke University Cancer Center says, the "financial toxicity" of cancer treatments impacts patients not only because of the cost of their care but also because it can substantially restrict their ability to pay for the essentials of everyday life, including keeping a roof over their heads or just keeping the lights on.
The National Institutes of Health agrees. It says the kind of financial stress that can come along with a cancer diagnosis is "devastating" and can lead to "clinical levels of depression and severe levels of anxiety" for patients as well as their family members.
The financial strain can be so severe that "nearly half of all cancer patients don't adhere to their treatment regimens because of money problems," according to Forbes Magazine.
AARP, the nation's largest nonprofit organization, asks, "If you are diagnosed with cancer, which expert should you see first? A medical specialist or a money manager?"
Their answer might surprise you.
"Option two," says the 38 million-strong advocacy group, "might give you the best hope for surviving the disease with your health – and your wallet – intact."
Citing a major study by the Fred Hutchinson Cancer Center in Seattle, AARP says "not only are cancer patients two-and-a-half times more likely to declare bankruptcy than healthy people, but those patients who do go bankrupt are 80 percent more likely to die from the disease than other cancer patients."
Fortunately for Garcia, she picked up a flyer in Storey's office about the FCS Foundation.
The Florida nonprofit foundation – an offshoot of the statewide Florida Cancer Specialists oncology/hematology practice, which employs more than 230 physicians at nearly 100 locations – helps cancer patients pay their non-medical bills, such as rent, mortgage, utility bills and car payments, allowing them to focus exclusively on their treatment and recovery.
Formed in 2011, according to executive director, Lynn Rasys, the foundation's operating and administrative expenses are paid by FCS physicians and surgeons, which means the monies raised by the foundation go directly to help Florida cancer patients.
As of this year, some $8 million has been paid-out statewide to assist patients with non-medical expenses during cancer treatment.
In just the tri-county area of Indian River, Brevard and St. Lucie, the FCS Foundation has already paid out more than $200,000 on patients' behalf so far in 2019.
Asked if the foundation's application process was difficult or if she'd needed help to complete it, Garcia smiles and says, "No. I did it on my phone."
Thanks to the FCS Foundation, Garcia's lights stayed on throughout her four-year ordeal.
For more information, or to apply for assistance, donate or find volunteer opportunities with the Florida Cancer Specialists Foundation, visit www.foundation.flcancer.com or call 941-677-7181.
Dr. Raul Storey is an oncologist and hematologist at the Vero Beach Florida Cancer Specialists office at 3730 7th Terrance, Suite 101. The phone number is 772-567-2332.