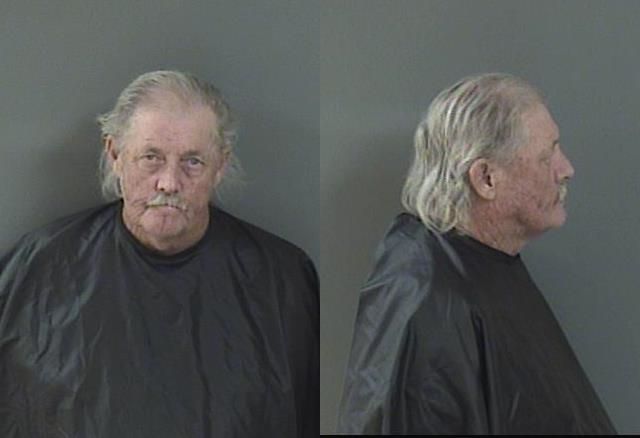 INDIAN RIVER COUNTY — Two men were arrested over the weekend after bullets they fired during target practice struck a pickup at a nearby birthday gathering, endangering several party goers, deputies said.
The owner of the vehicle told deputies he heard about 10 to 15 shots "whiz" by him and his family two different times, reports show. Everyone at the party went to the ground after they heard a loud crackling sound.
No injuries were reported in the shootings, which happened within a 20-minute period.
The suspected shooters – identified as Phillip Mccord and Kevin Harwood – were using an empty beer box as a target, reports show. Bullets from the .223 caliber rifle struck the back windshield of the pickup, where a family was gathered less than a mile away.
Deputies charged Harwood, 46, of the 1400 block of 90th Avenue, and Mccord, 64, of the 100 block of 90th Avenue Southwest, on charges of criminal mischief and possession or use of a firearm while under influence of alcohol or chemicals. The men, who both live in Vero Beach, were released Saturday from the Indian River County Jail on $1,000 bond.
Indian River County deputies responded to reports of shots fired about 5 p.m. Saturday at an open pasture in the 8500 block of 4th Street. The caller told deputies the back of his pickup truck had been shot out, reports show.
The man and other men at the gathering got on all-terrain vehicles and drove west and south to see where the shots were coming from. The men found Harwood and Mccord on 90th Avenue, and held them until deputies arrived.
Harwood and Mccord admitted to deputies they fired shots from the rifle, reports show. Deputies found ammunition and shell casings inside and near Harwood's truck.
Deputies also found the beer box, which was about 50 feet away, reports show.
Deputies arrested Harwood and Mccord and took them to the county jail. Harwood's arraignment was set for 8:30 a.m. April 16; Mccord's arraignment is 8:30 a.m. April 23.