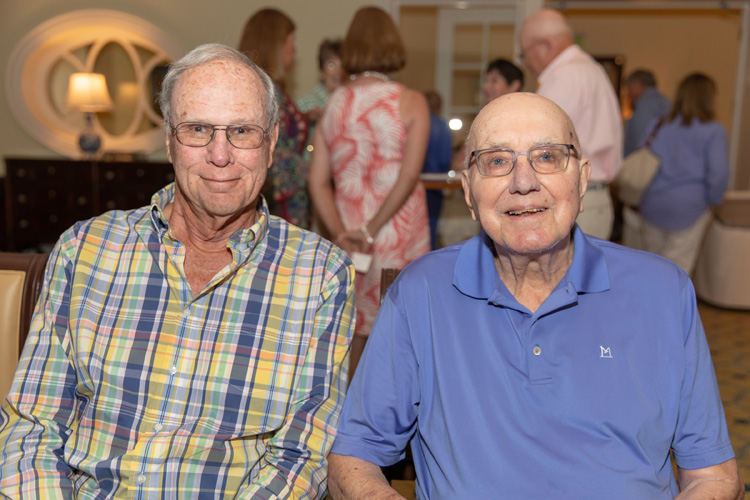 Members of the Moorings community who volunteer with Indian River Habitat for Humanity throughout the year were invited to an Ice Cream Social Reception last Friday afternoon at the Moorings Yacht and Country Club, highlighted by a record-breaking check presentation.
"This afternoon we have several treats for you, in addition to the ice cream," said David Sommers, chairman of the Moorings Habitat committee. "The Moorings Classic Weekend is our major fundraising event every Presidents Weekend. This year, Jean Hyde and Pat Allex led the most successful weekend effort ever."
He noted that every year for the past two decades, residents have volunteered and raised funds for Habitat, toward the construction and rehabilitation of homes, and for educational scholarships for homeowners and their children.
Throughout that time, Sommers said the Moorings Club has supported their efforts, donating the use of facilities during the fundraising weekend and providing food, beverages and services at cost.
"Without that steadfast support over the last 20 years, none of what we do would have happened," Sommers stressed.
"The club supports multiple Vero Beach charities, but Habitat is our longest charitable relationship," said Kati Rosato, president of the Moorings board of governors. In 2004, she said the club began its participation in the Community Contribution Tax Credit Program, which enables it to divert sales-tax dollars from the state directly to Habitat.
"This year, the club contributed sales tax in the amount of $150,000, which will go directly to next season's home-building," said Rosato. "Since 2004, the club has generated $1.9 million for Habitat through CCTCP."
Hyde and Allex proudly announced that this year's final fundraising amount was $385,459. It was a 12 percent increase over last year, which Hyde credited to an increase in sponsorships, additional silent-auction items, and a new bid-from-the-heart.
"Jean and I found this to be an enriching experience because of all of you here today," said Allex, thanking everyone who helped make the weekend a "smashing success," before the pair handed over the 'baton' to their vice chairs, Randy and Karen Sones, who will lead next year's committee.
"This year we have outdone our earlier selves," said Sommers, noting that the funding will enable Habitat to build four new homes, rehabilitate six homes and will provide scholarships to seven Habitat scholars.
"To say that I am humbled is an understatement, with respect to the gratitude of this community and all of the work that you have done on behalf of Habitat," said Sheryl Vittitoe, Habitat CEO, accepting a ceremonial $535,000 check. "You're making a difference in the lives of people living and working in Indian River County."
To put a face to a few of the people impacted by their generosity, Vittitoe introduced a new Habitat homeowner whose home was being dedicated the next day; another woman whose family home, damaged by Hurricane Matthew, received a new roof; and a young man whose Habitat scholarship is enabling him to pursue a degree in criminal justice.
For more information, visit irchabitat.org.
Photos by: Denise Ritchie
Click HERE to see more or buy photos