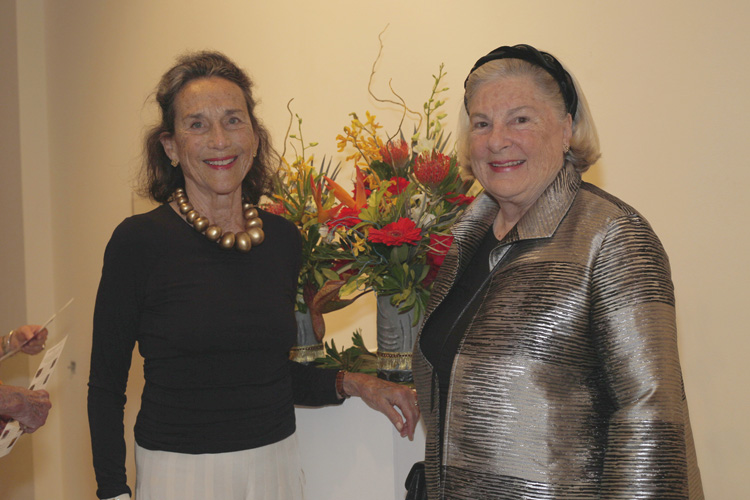 Organizers of this year's Art in Bloom Luncheon at the Vero Beach Museum of Art were presented with some new challenges due to the strict restrictions placed on the museum's Victorian Radicals: From the Pre-Raphaelites to the Arts & Crafts Movement exhibit, on display through May 5. But the luncheon co-chairs Susan Bouma and Dhuanne Tansill, and exhibition co-chairs Ann Jones and Susan Pyles, took it all in stride.
One thing that made this year's event unique was that viewing took place strictly in the museum's hallway rather than in the galleries. The other was that the gorgeous floral designs were, for the first time, not based on the museum's exhibits, but rather on colorful and sparkly museum-quality clutches by the famed fashion designer Judith Leiber, who passed away last April. Seven of the purses used for inspiration came from the collection of Marguerite Jones Miller.
Jones said that after reading that Leiber had died and realizing they would have limited space, she thought it would be fun to use the purses as the inspiration for the arrangements. Space constraints also forced the number of floral designs to be reduced to 11 versus prior years when they had between 14 and 16 arrangements.
"I think we all found it to be a brand-new challenge. It was something people hadn't done before so it was fun," said Jones.
"It was fun; it was interesting," said designer Betty McCarthy in agreement. "There were animals and there were different forms. I think that my biggest surprise was the size. The bags are so small."
"What is rather special about a lot of these women is they're national judges," said Jones of the floral designers. "And so the caliber here is quite high. We're very fortunate here that we have this group of women who are unusually qualified. This is an art form, although it's not always recognized that way until people see it. What we try to do is interpret these pieces, not replicate them."
"Some of the clever interpretations are the most impressive I've ever seen. Amazing creations," said Jean Ueltschi, as she pondered each piece before marking her ballot.
The popular event once again necessitated two seatings for the nearly 500 guests, with earlier arrivals dining in the great hall and the latter group in the atrium, all enjoying a luncheon of poached salmon catered by Elizabeth D. Kennedy & Co.
This year's guest presenter was Charles Masson, artist, floral designer, author of "The Flowers of La Grenouille" and creator of the Majorelle restaurant at the Lowell Hotel in New York City, who delighted the ladies as he shared slides and tips and gave floral arranging demonstrations.
"Through the eyes of artists, you learn to appreciate the smaller things in life. There's beauty everywhere," said Masson. Indeed.
Show winners:
Best Use of Color: Floral designer Nancy Murray, ladybug purse
Best Use of Texture: Floral designer Elaine Sigler, striped horse purse
Best Interpretation: Floral designers Liz Farnsworth and Susan Pyles, lemon slice purse
Best in Show: Floral designer, Lee La Pointe, frog purse
Curator's Choice Award: Floral designer, Arun Wijetilleke, butterfly purse
Photos by: Kaila Jones
Click HERE to see more or buy photos