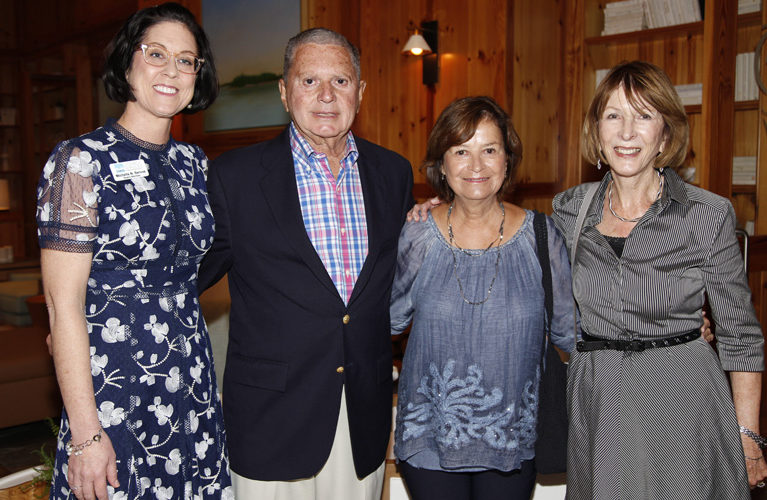 Being able to read and write is often taken for granted. And yet, according to Literacy Services of Indian River County, one out of five adult residents struggles with substandard literacy skills. Another 13.5 percent speak a primary language other than English.
At the annual Love of Literacy Luncheon last Monday at the Quail Valley River Club, two dedicated individuals were honored for their commitment toward improving their own literacy skills as well as those of their children.
"This organization has a tremendous history," said Jessica Schmitt, executive director, in her welcome to the 150 guests, thanking them for their support of the organization's vision to end generational illiteracy. She also recognized guests Nat Jackson, Ann Hamner, Gertrude Terry, Kathryn Moss and Helen Brackins, some of the founders of the organization in 1971.
Michelle Servos, immediate past president, said more than 295 students were able to improve their lives this past year with the assistance of 190 volunteer tutors.
"As a result of what our students and their tutors are accomplishing, their lives are enriched, and our community is better for it," said Servos. She noted that students have been able to become U.S. citizens; obtain jobs, driver's licenses, bank accounts and GEDs; attend college, trade schools and adult education classes; and have become more engaged in their children's education.
"Literacy is an essential aspect of our everyday life, and the ability to read can open so many doors," said Servos.
The luncheon's guest speaker was Jeanne Sealander Miller, author of a trilogy of memoirs awarded the Best Spiritual Book at the London Book Festival, who spoke about the unexpected life paths that led to her becoming a writer.
"I want you to think today about a story being a metaphor for life; where you are the author and you are the main character," said Miller.
She shared that her own story as an author evolved from a series of journals she wrote relating to pivotal moments in her life. Miller said the choices we make move the story one direction or another, but that it can be rewritten if you don't like the direction it is taking.
"I would say that our students here are like that," said Miller. "They are changing the direction of their lives."
Tutor trainer Anali Vieyra and North County coordinator Elida Gomez introduced Larry Bass, Literacy Student of the Year, and Kenia Lopez, ESL Student of the Year, and their tutors.
"I am an example of the student who fell through the cracks of the public-school system," said Bass, tutored by Melanie Atkins. Although his daughter is an ROTC student destined to do well in life, Bass said his son also had trouble reading. Bass now reads with him at night and is better able to communicate with his son's teachers. Bass is pursuing his dream of becoming a professional cook and now works at Marsh Landing.
Learning to speak English has been life-changing for Lopez, tutored by Linda VillaMil, especially in her role as caregiver to her autistic, epileptic daughter. In addition to wanting to help her son with school, being able to speak directly with her daughter's physicians was critical.
"Now I don't need a translator at the doctor's, because my tutor has given me the tools and confidence to express myself in English," said Lopez.
"Our dream is that every person who comes to Literacy Services for help finds the resources they need to feel empowered to turn the page and write a new chapter of success, and to achieve their dreams," said Schmitt in closing.
Photos by: Kaila Jones
Click HERE to see more or buy photos