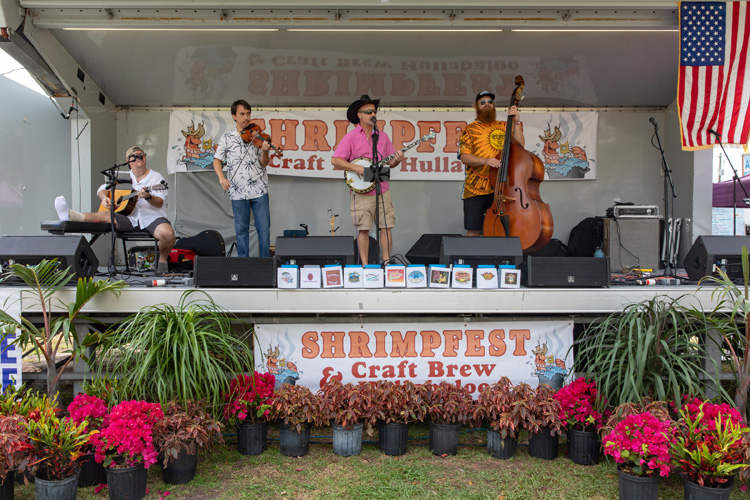 Riverview Park in Sebastian overflowed with an estimated 10,000 people last weekend during the fourth annual ShrimpFest & Craft Brew Hullabaloo, collaboratively hosted by the Rotary Club of Sebastian, City of Sebastian and the Exchange Club of Fellsmere.
Attendees to the three-day festival didn't let a few raindrops dampen the mood, and instead had a crustaceous good time in spite of the weather. Even as temperatures began to cool things off, craft beers continued to flow from the taps of nearly 30 breweries and home brewers.
Saturday afternoon's beer garden was a favorite spot as attendees made their way through, sipping from "pint-sized" tasting mugs. In addition to brews, kombucha, cold-brew coffee, root beer and hard ciders were on tap for the tasting.
Nearby, the tempting aroma of scrumptious shrimp wafted about as the tasty shellfish were simmered, sautéed and barbecued by local chefs using every recipe imaginable.
Crowds of gourmands tested the waters as featured restaurants cooked up shrimp-centric cuisine and vied for the coveted Golden Shrimp Award. The Chubby Mullet Bar & Grill had folks puckering up for their pickled shrimp; The Old Fish House served up peel and eat shrimp; Squid Lips tossed in shrimp tacos; and The Tiki Hut Bar and Grill offered garlic shrimp on toast.
And a hoard of food trucks offered everything from curried shrimp to shrimp cakes, garlic shrimp and volcano shrimp po'boys, along with each of the mobile eateries' specialties. The Rotary Club provided shrimp pizza and, for landlubbers, a few non-prawn related items, including hot dogs and hamburgers.
The park was abuzz with music playing all weekend long, Harley Davidson motorcycles roared in with hogs aplenty, and a kids zone bustled with activity as small fries enjoyed their special space. After getting their fill of food and frothy beverages, attendees could walk off their meals perusing classic cars, visiting educational exhibits and shopping from more than 90 vendors, where they could pick up miniature cornhole games, handmade soaps, art and jewelry.
Event chair Marc Gingras said they cast the net wide in hopes of topping last year's $70,000 to "generate monies for local youth sports clubs and organizations."
Proceeds from the event support the Sebastian River Girls Basketball, Sebastian River Wrestling, Sebastian River Track & Field, Sebastian River Interact Club, Sebastian Sharks Youth Football & Cheerleading, Sebastian River Crew and the Boys & Girls Club.
Photos by: Denise Ritchie
Click HERE to see more or buy photos