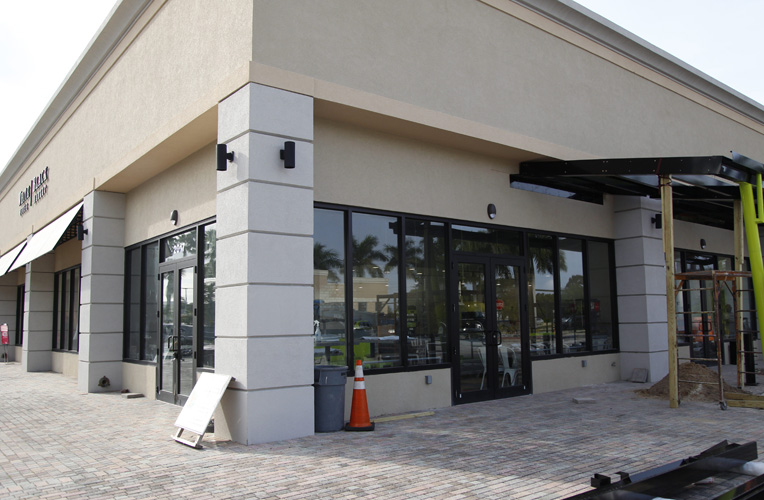 Two new, small-chain restaurants are scheduled to open soon in the Miracle Mile area – one serving only breakfast and lunch, the other offering wood-oven pizzas and wood-fired chicken wings.
First Watch, which was founded on California's Monterey Peninsula in 1983 and markets its more than 200 eateries in 26 states as "The Daytime Café," plans to open Monday in the former ABC Fine Wine & Spirits store on 21st Street.
Urban Bricks Pizza is expected to open April 3 in the 3 Avenues Shopping Center, northeast of Panera Bread and immediately east of the White House/Black Market store, where it will become the Austin, Texas-based company's 50th franchise.
Both restaurants will offer indoor and outdoor dining.
"I'm excited for Vero Beach, getting these two go-to places, both of which will be very popular," said local commercial realtor Billy Moss, who brokered the deals to bring the restaurants to town.
"First Watch has an upscale feel and should have a tremendous appeal, especially to people on the island," he added. "Urban Bricks has a very California, L.A.-chic fun feel. People are going to love it.
"These are great additions to our community, which is getting something we don't have."
Corporate policy prevented Jake Simon, general manager of the local First Watch restaurant, from commenting on the new business, which will operate from 7 a.m. to 2:30 p.m. daily.
However, the company's website heralds a "uniquely fresh approach to daytime-only dining."
While First Watch's focus is on fresh, made-to-order, health-oriented foods, its menu also includes breakfast standards, such as bacon and eggs, pancakes, waffles, French toast, sausage and potatoes.
The sandwich options include roast beef and Havarti; chicken salad melt; and bacon, lettuce, tomato and egg.
For those looking for more healthy options, the menu is full of them. In addition to quinoa bowls, salads, and a variety of items made with fresh fruits and vegetables, there's a fresh juice bar.
Diners may order anything on the menu any time of day, and substitutions are welcomed. Alcohol also will be available for those who might want a Bloody Mary or mimosa.
First Watch restaurants already are open in Port St. Lucie, Stuart and Viera.
"First Watch has been around for a really long time," Chris Tomasso, the company's president and CEO says in a website video, "but we feel like we're just getting started."
The Urban Bricks in Vero Beach will be the company's first venture into Florida, though it plans to add restaurants in Orlando, Miami and Tampa.
Vero Beach pharmacist Doug Miller, owner of the local franchise, described Urban Bricks as a "Chipotle for pizza, pasta, panninis, salad and wings." Beer, wine and gelato are also on the menu.
The walk-through, cafeteria-style setup allows customers to choose their crust, sauce and toppings, then have their pizza cooked in only two minutes in a special, rotating oven imported from Italy.
Miller said the 1,600-square-foot restaurant will allow for only 34 seats indoors, but there's room for another 40 on the outdoor patio, where a cool-fog system can drop the temperature as much as 20 degrees.
"We want to make the patio area as comfortable as possible," Miller said. "We've got an air curtain that will keep the air-conditioning in and the bugs out, so we'll leave the doors open for that open-air feel.
"It's also pet-friendly outside."
Urban Bricks will also provide delivery service and has an app to make ordering easier.