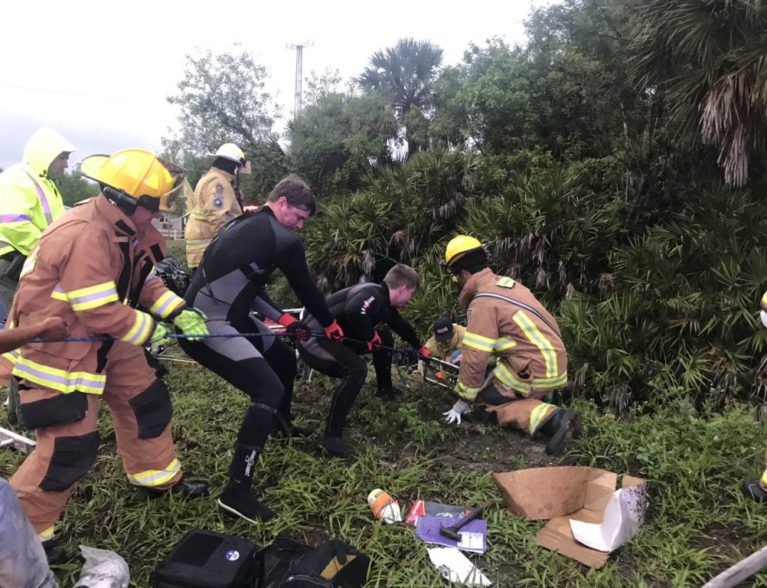 Photo provided by Dr. Deepti Sadhwani
INDIAN RIVER COUNTY — A group of bystanders helped first responders save the life of a man who was trapped in a vehicle that crashed into a canal, fire rescue crews said.
The wreck involving two cars happened about 7:40 a.m. Tuesday at 66th Avenue and 69th Street, according to the Florida Highway Patrol traffic site. The collision jolted one of the cars into a nearby canal, Indian River County Fire Rescue Battalion Chief Kyle Kofke said.
Bystanders, deputies and a firefighter lifted the car, which was upside down, onto its side, Kofke said. The group held the vehicle up to keep the driver's head above water, which was about two feet deep, Kofke said.
"They saved his life by holding the vehicle up," Kofke said. Firefighters used equipment to cut the car open to free the driver, a man, Kofke said.
The man was taken to Lawnwood Regional Medical Center & Heart Institute in Fort Pierce with serious injuries, Kofke said. The driver of the second car refused treatment.
There were no passengers in either vehicle, Kofke said. The Florida Highway Patrol is investigating the cause of the wreck.
Photos provided by Dr. Deepti Sadhwani