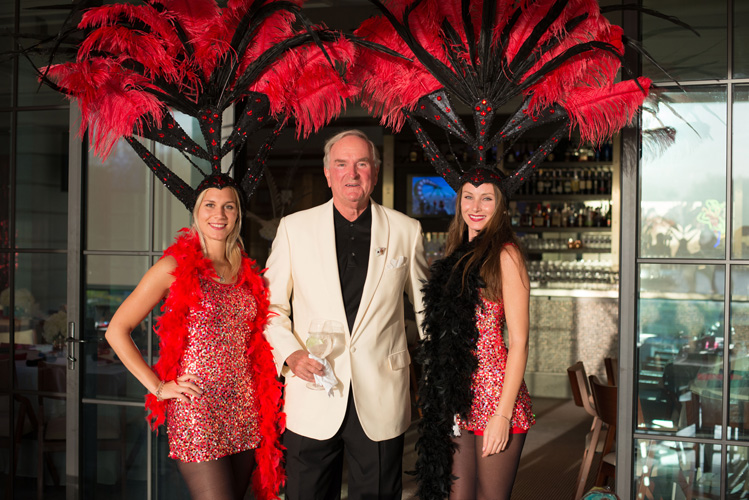 John's Islanders showed a "hunka-hunka burning love" in support of local nonprofit organizations at the John's Island Community Service League's "Fabulous Las Vegas" Gala last Saturday night. The claim that "what happens in Vegas stays in Vegas" is hardly applicable to this generous Vero Vegas group, where dollars raised will be spread far and wide across the county.
"We have more than 1,000 members now," said Hope Woodhouse, JICSL board president. "This is the second year in a row that we'll be giving out more than $1 million."
This year the Service League will provide grants toward the operating expenses of 39 agencies that provide services to women, children and families in need of health, education and human services, plus scholarships for the children of John's Island employees. While the gala is their main fundraiser, monies are also raised through the Tambourine Resale Shop, advertising in the coveted Little Black Book, and several smaller fundraising efforts.
Gala co-chairs Nancy Brewer, Lynn Ingrassia and Terry Nolan, with assistance from an extensive committee and the exceptional John's Island staff, pulled off an evening to rival anything on the famed Vegas strip.
Guests got into the festive spirit of the night, dressed to impress in glitter and gold, feathers and boas, as they gathered for cocktails on the club's outdoor terraces and listened to music by Bobby & the Blisters.
Making a surprise appearance was not one, but two Elvises (thank you very much) who parachuted down to the putting green from neck-strainingly way up high, a trail of sparklers flashing behind them.
The pair later officiated over quickie weddings (many ladies had come dressed for the occasion in gowns and veils) in the flower-adorned chapel. Conveniently adjacent to the chapel, was an opportunity for an equally quickie divorce.
Chef Farnsworth and his staff did a yeoman's job, offering up bounteous buffets in multiple dining areas throughout the club, along with copious offerings of liquid refreshments.
And later on, the Rat Pack Swingers entertained at one end of the club, eliciting memories of "Ol' Blue Eyes" and his buddies, and at the other end, two casinos kept the dice rolling well into the night.
Photos by: Benjamin Thacker
Click HERE to see more or buy photos