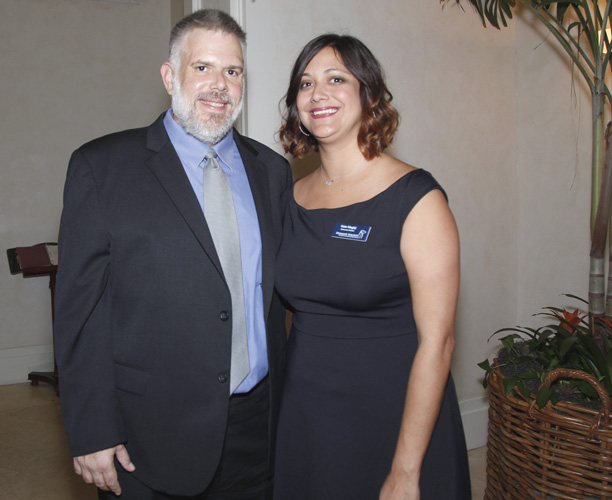 Humans and canines alike had a doggone good time last Tuesday evening as pet patrons gathered at Oak Harbor Club for the 2019 Cause for Paws fundraiser to benefit the Humane Society of Vero Beach and Indian River County.
A welcoming committee of pooch pals Roo, Buddy and Jazz put their best paws forward, greeting guests with tail-wagging exuberance and more than a few licks, enthusiastically promoting the shelter's mission.
The Humane Society operates as an "Open Door, Open Heart" shelter and, as the only open admission animal shelter in Indian River County, does not turn away any animal, regardless of age, health, behavior or adoptability.
"Tonight is a celebration of the human-animal bond, which we all understand is so crucial to us and them," said Kate Meghji, who joined in January as executive director. "We are here as fellow animal lovers to support one of our county's oldest nonprofit institutions, which exists today because of this community's commitment to provide a safety net to all pets in need."
More than 200 silent-auction items were available for guests to haggle over, including a special luxury gallery of unique items. Thomas McCabe of Freeman Auction House flew in to emcee the event, driving bids ever higher during an intensive live auction.
HSVBIRC Facebook fans had been asked recently to share pet adoption photos and stories, and more than 400 proud pet parents complied. Guests oohed and aahed over photos showing happy, healthy shelter alumni in their 'furever' homes.
"Your donations go directly to providing life-saving and life-changing care to thousands of animals in need right in our community. Tonight's event is our largest fundraiser and provides our shelter pets with all the care and compassion they need," said Meghji, inviting guests to join a paddle raise "to support the work we do to continue changing and saving lives."
Honoring the shelter's 65-year tradition as the only open-door safety net for animals in the county, Meghji said that with the support of staff, volunteers and benefactors, the shelter will continue to provide "the best possible temporary home to our community's homeless pets through best practices."
A brief video highlighted programs and services offered to help pets remain in homes and out of the shelter, including Play Dogs Play, Read and Relax, fostering, mobile adoption, spay and neuter, vaccinations and heartworm prevention.
"Most people think of animal shelters as sad and scary places, doggie jails, the pound or worse. The truth is so much better," said Meghji. "We are a place of care and respite, we help people keep their beloved pets, and we help abused animals recover. We discover all that is remarkable about each and every animal that enters our care through no fault of their own. We bring families together, and we give homeless animals a second chance at a happy and healthy life."
Last year alone, care was provided to 3,800-plus animals, the wellness clinic provided affordable care to 900-plus animals, 1,400 homeless pets found new forever homes and 600-plus pets were reunited with families.
For more information, visit hsvb.org.
Photos by: Kaila Jones
Click HERE to see more or buy photos