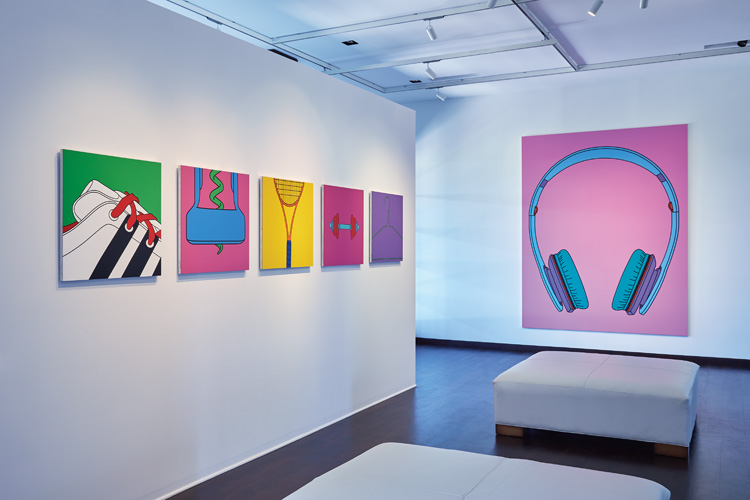 "What I love about it is that this appeals to all age groups. My grandchildren would totally get into this. That's what I love about it," says docent Linda Stubblefield about the Gallery at Windsor's current exhibition. Titled "Present Sense," it features paintings and sculptures by London-based artist Michael Craig-Martin. The show runs through April 25 and is open to the public by appointment for docent-led tours.
A stroll through the gallery explains all. Craig-Martin's large paintings depict objects found in many a household. Limned in bold black lines and filled in with bright hues, you might think of them as coloring book pictures for the cognoscenti. Among the images on display is a giant headphone set in blue, purple and green on a pink background; a pair of aviator sunglasses with purple lenses on a blue ground; and a diptych of two Adidas-style sneakers. In that one we see, depicted in the center of the left and right panels, the outside profile of a right-footed sneaker (or "trainer," as they say in Britain). The one on the left is green with red stripes on a blue ground; the one on the right is blue with red stripes on a green ground.
"For this show the artist was thoughtful in his selection of pieces. He wanted things that go with Florida," Stubblefield says.
That probably explains two paintings of sunglasses, one tennis racquet, three running shoes, a credit card and a Rolex-type watch. There is nothing here, however, that a person in any first-world country would not find familiar: a coat hanger, a wristwatch, a guitar, an iPhone.
Speaking about his work in a video made for his 2015-16 exhibition at Serpentine Gallery in London, Craig-Martin explained that his paintings are not about the objects they represent; the painting itself is the object. And that, he says, "is the thing that's so interesting about images."
For instance, if I wrote here that there is a corkscrew in the show, you might go to the gallery to see it, and find a painting of a corkscrew instead. You did not see a corkscrew, of course, but you did see an object related in name to a corkscrew. In other words, what we name things is what they become.
It is a fine concept to base a career on, but Craig-Martin has done it with considerable success.
If Andy Warhol (whose famously banal subject matter included Brillo boxes and Campbell's soup cans) called his studio "The Factory" for its deadpan production of art products, the dispassionate Craig-Martin has come full circle in pursuit of the prosaic. While Warhol said he wanted to be a machine, Craig-Martin, over the course of his half-century career, has become one with the computer.
His current series of drawings began in the 1980s, when he created pictures of common objects in black outline directly onto the white walls of the galleries in which they were shown.
While his drawing style has not changed since then, objects that were ubiquitous in the 1980s, such as VHS tape, game consoles and the Walkman cassette player – all of which have been fodder for his art – have been replaced by the iPhone.
Craig-Martin mused for the Serpentine video, "The iPhone sums up everything, doesn't it? – because it's the most iconic of the new objects, and it's the (digital) object that's replaced all the analog objects."
When personal computers became widely available in the 1990s, Craig-Martin began making his drawings on them, says Stubblefield.
"The computer opened a new world for him. Not only could he experiment with color on the computer before making a decision regarding the colors he would use in a painting, he could also experiment with scale and positioning," before approaching his painting substrate in the flesh.
She adds that after Craig-Martin draws an image of a certain style of shoe, or a basketball, or an electric fan, he digitally stores the image on his computer, where he can retrieve it for future use. He has used certain images in this way over and over again, digitally resizing them for each new project.
His painting technique is equally unruffled. He paints on aluminum panels (the ultimate for flatness and stability) that are first painted a uniform black. After projecting a computer-drawn subject onto a panel, he traces the outlines of the drawing in painter's tape, of a width that will correspond to the outlines in the finished work. After filling in the taped areas with acrylic paint (applied with 4-inch paint rollers for a seamless consistency of surface), he removes the tape to reveal the crisp black outlines of the image, be it a jump drive or a box of fries.
In every stage, Craig-Martin avoids showing us his hand. The usual tale of the artist's painterly progress, as evidenced by brushstrokes or paint drips, is invisible in his work.
As might be expected, the artist never mixes colors, but uses them straight from the manufacturer's factory. While the colors he uses do not correspond to life (such as the show's purple and green American football), neither are his image colors based on a whim. The high-keyed hues encourage us to appreciate his pictures as carefully crafted compositions, rather than as symbols for things.
Craig-Martin's art may not be the Answer to Life, the Universe and Everything, but it is hard not to smile when you see a painting of a green high-heeled pump, perfectly centered in a magenta square.
In a video made by Windsor for the current exhibition, Craig-Martin asserts that he has "always tried to make work that is accessible to anybody. I'm not interested in making something that you have to have a special degree to understand – I think that everybody can identify with what I do."
The fun is not limited to the confines of the gallery. This is the first time that Windsor has shown an artist's sculptures on its grounds concurrently with an exhibition in its gallery.
Rendered in square steel tubing and finished in a luscious pink industrial coating, the sculptural image of a high heel looks like a shoe drawn on air. More drawing than sculpture, it, along with four others Craig-Martin sculptures placed about the property, is simply an outline of welded steel that appears to rest directly on the ground, rather than on a base.
Because they are composed only of outlines, you view the sculptures by looking through them, as well as at them. The environment in which they are situated, therefore, is as important as the artworks themselves. Set against the colonnaded backdrop of a Windsor home, the curvy lines of "High Heel (pink)" coyly flirt with the austere architecture.
Craig-Martin's dry sense of humor comes through in his exacting placement of the sculptures. Stubblefield says that on first visiting Windsor, the artist knew that his white picket gate sculpture would have to go to the end of the allée of oaks leading from the entrance off A1A to the community's center.
A pair of umbrellas (one purple, one yellow) situated on the golf course "look like they have been put down because of a passing shower," says the artist in his Windsor video. His magenta "Garden Fork" stands at attention in a garden near the clubhouse and a red "Wheelbarrow" is parked with a view of the stables beyond it.
A sixth sculpture by Craig-Martin titled "Bulb (magenta)" is on display at the Vero Beach Museum of Art.
In a brochure about his sculptures at Windsor, the artist wrote that he was "very touched" that the Vero Beach Museum of Art requested the loan of one of his sculptures to display concurrently with the Windsor exhibition.
Because of the collaboration between Windsor and the art museum, "a different audience might see it and perhaps want to visit Windsor and see the exhibition" in its entirety, he said.
A luncheon at the Beach Club followed by a tour of Michael Craig-Martin's sculptures on the grounds at Windsor is being offered March 18; 11 a.m. exhibition introduction, followed by a luncheon ($25) and 12:30 p.m. sculpture tour via golf carts ($10 suggested donation to the Windsor Charitable Foundation). Docent-led group tours of The Gallery are available by appointment only; $10 suggested donation. Contact the Gallery at 772-388-4071 or email gallery@windsorflorida.com.