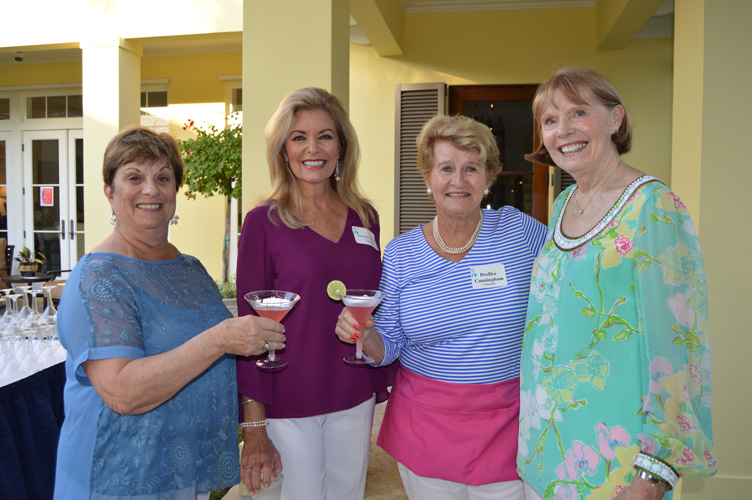 The ladies of Orchid Island enjoyed what may be one last hurrah during the sixth annual Connecting for Cancer Girls' Night Out at the home of Gerri and Robert Ripp in the Orchid Island Golf & Beach Club community.
The annual cancer fundraiser, originated by Nancy Cruce and Gerry Collins, played off the exuberant community spirit and camaraderie of residents helping others in their times of need. The grassroots effort has raised more than $140,000 over the past six years.
Guests enjoyed appetizers and perused silent-auction and raffle items as they sipped on Pink Lady Cosmos fresh off a frosty ice sculpture of a pink breast cancer ribbon, positioned at the center of the courtyard of the Ripps' beautiful home.
"So many people are affected by cancer and this is such a great organization," said Gerri Ripp. "We were honored to be able to open our home to help others."
While the ladies were enjoying their time together, their husbands were off to the Beach Club for a Boys' Night Out, which included cocktails in the Seaside Lounge, dinner in the Beach Club Dining Room and a screening of the movie "The Sting."
"Hundreds of patients have been helped with both diagnosis and treatment through the Pay It Forward program," said Beverly Sanders, Cleveland Clinic Indian River Foundation director of gift planning. "Anyone who walks through the door is going to continue to get the best treatment they can, and the Pay It Forward program helps alleviate some of the worries during such a stressful time."
Cruce, who is relocating to Texas, was bidding the pink-hued crowd of women adieu and, offering thanks for their "intense support of the community through Connecting for Cancer," stressed her hope that they would continue to support the Pay It Forward program.
"It's an incredible cause," said Cruce, adding that cancer is the leading killer of Indian River County residents and affects almost everyone in some way.
One-hundred percent of proceeds from the event benefit the Pay It Forward Patient Assistance Fund of the Cleveland Clinic Indian River Foundation, which provides financial assistance to local cancer patients facing financial difficulties as a result of their illness. The fund has helped cover the costs of screenings, diagnostic procedures, surgery, medication and cancer treatments.
J. McLaughlin's at the Village Shops also contributed to the effort, donating a portion of proceeds from a recent Sip & Shop highlighting their Spring Collection.
Photos by: Stephanie LaBaff
Click HERE to see more or buy photos