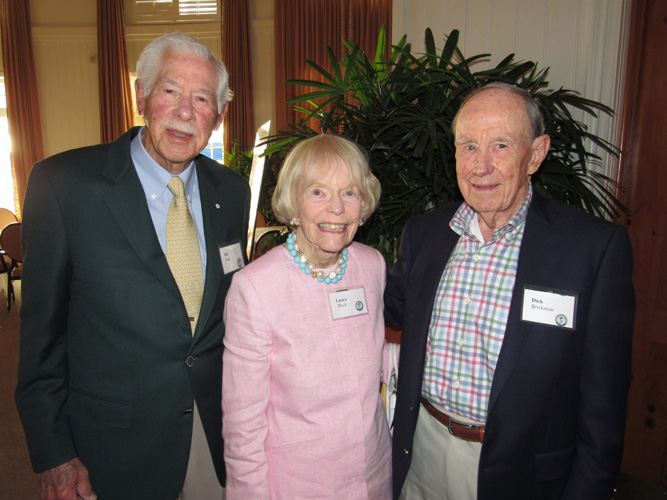 Indian River Land Trust benefactors and donors were celebrated last Thursday evening at the Quail Valley River Club for their continued support of the nonprofit organization's conservation and preservation efforts. The event was hosted by environmental advocates Bill and Laura Buck, and Dick and Sally Brickman.
Ken Grudens, IRLT executive director, presented a slide show of accomplishments and some of their partnerships with other nonprofits such as FAU Harbor Branch Oceanographic Institute, Florida Institute of Technology, Ocean Research and Conservation Association, Gifford Youth Achievement Center, Youth Sailing Foundation and Indian River Community Foundation. Grudens also introduced Dave Fuss, IRLT's new director of land stewardship.
"With your generous support over the past decade, the Land Trust has made an enormous impact on the lagoon, on the river itself, on the shoreline and on the people of this community," said Grudens. "Protecting the land that protects the lagoon is really our mantra, our tagline. What we're trying to do with that is to improve the water quality and protect and enhance the wildlife habitats that we have in this wonderful county."
He noted that through partnerships with the Mosquito Control District and the St. Johns River Management District, they have installed lateral culverts connecting wetlands with the lagoon to improve its water quality throughout the year.
ORCA is working to reduce shoreline erosion by having local students grow and plant vegetation at seven Land Trust sites, and a four-year partnership with GYAC – Wednesdays in Nature – takes children out to Land Trust properties.
Grudens said they realized the impact of the GYAC program after taking children to the Lagoon Greenway, commenting on their astonishment after reaching the observation deck overlooking the lagoon. "A couple of kids turned around and said, 'What is this?' They had never really experienced the lagoon."
A Junior Scientist Fellows program with FAU-HBOI has Vero, Sebastian and Charter high school students assisting with scientific research on their Coastal Oaks Preserve site.
"This property has every type of habitat you can find in Indian River County, all in one 220-acre block," said Grudens. "As a result, the wildlife is amazing."
An innovative partnership with Ballet Vero Beach and the Charter High School included taking young dancers to experience the lagoon environment and mangroves prior to their dancing in BVB's Nutcracker on the Indian River Lagoon productions.
And an FIT Bonefish and Tarpon Trust program is finishing a two-year fishery study looking at important game fish moving in and out of the wetlands, which will help the IRLT to better manage their coastal systems so as to improve the lifecycles of the sportfish.
"We're also working very hard to acquire remaining undeveloped property on the lagoon in our county," said Grudens. "In many ways that's our top priority; it always has been. We're at over 1,000 acres and 10 miles of shoreline to date, and we're in conversations with landowners for another 200-plus acres, and a mile or two of shoreline. Looking forward, opportunities abound. Looking back, thank you again, because we couldn't have gotten here without you."
For more information, visit irlt.org.
Photos by: Mary Schenkel
Click HERE to see more or buy photos