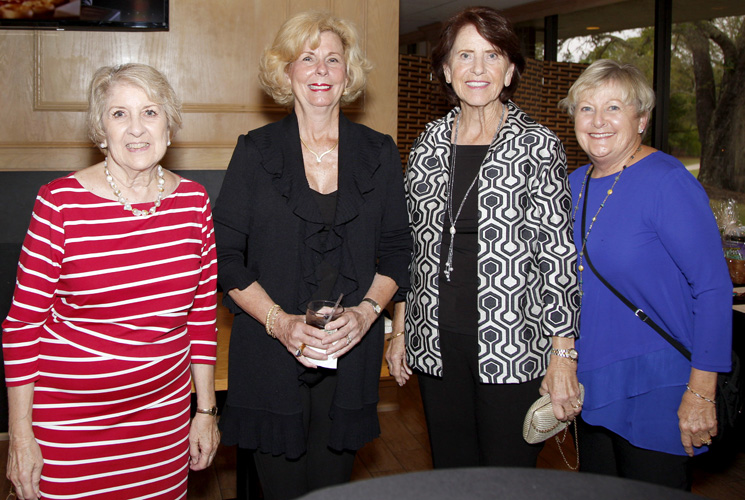 Farm-fresh vegetables and the joy of giving were the main topics of conversation during a Spring Dinner to benefit the Shining Light Garden last Tuesday evening at the Bent Pine Golf Club. Guests celebrated the garden's bounty, sowed from faith and goodness, and harvested to feed the hungry.
Shining Light Garden got its start in 2008, when founder Joel Bray experienced a downturn in his construction business and started growing a two-acre backyard garden. Generously sharing his extra produce with the needy, he quickly discovered that the more he gave away, the greater was his desire to share even more. He prayed to find a way to expand the garden and his prayers were answered.
"God made it happen and sent us the assistance we needed. This is our service to the Lord," said Bray. His vision grew and in 2010 Bray moved to a 10-acre parcel of land; just one year later he expanded to 20 acres. In 2014, a $100,000 Impact 100 grant enabled him to purchase additional equipment and supplies, almost doubling their production capability.
Shining Light Garden has since produced more than 17,000 bushels of fresh produce for the homeless and less fortunate. Shining Light Garden is 100 percent volunteer run, with 100 percent of produce given away. There is also a flower garden there, and cuttings are sent to patients at the VNA Hospice House.
Bray and his team of 30 volunteers seed, transplant, fertilize and water the plants and then harvest, wash and distribute the crops to pantries, homeless shelters and about 20 food assistance programs in Indian River County.
The sheer volume and variety of produce is impressive: beans, beets, broccoli, cabbage, carrots, cauliflower, collards, cucumbers, eggplant, herbs, kale, lettuces, mustard greens, okra, onions, peanuts, peppers, potatoes, tomatoes, squash and herbs, as well as fruit trees such as mango, avocado and miracle fruit.
"We have about 84 miracle fruit trees on the property. We give the berries to cancer and diabetic patients," said Bray.
He explained that chemotherapy can affect a patient's ability to taste food, and the flavorful miracle fruit berry can improve the taste sensation. For diabetics, the little red berry is like a burst of sugar, tasting like a jelly bean without the harmful side effects.
"We don't own the land," said Greg Vafiades, who has volunteered at the garden for the past 10 years. "The landowners get the benefits of an agricultural exemption on the property and we get to harvest the land. It's a win-win situation."
The garden is not open to the public, although visits can be arranged. Produce is distributed through various food pantries and soup kitchens, veterans and senior programs, but all requests are considered.
Proceeds from the Spring Dinner help fund the operation of the farm.
"Seeds, fuel, fertilizer and potting soil are the constants," said Bray. "But every now and then we have to replace a pump or another piece of equipment. Through the generosity of these folks here we are able to continue feeding the hungry."
For more information, visit shininglightgarden.com.
Photos by: Kaila Jones
Click HERE to see more or buy photos