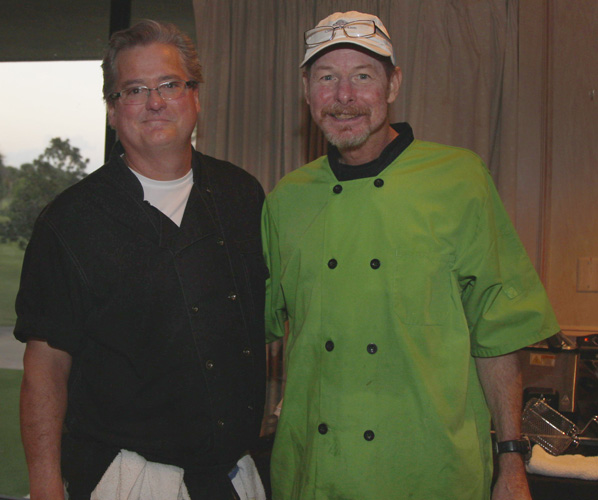 The people have spoken. Eight talented chefs gave it their all last Monday evening at the 2019 Vero's Top Chef Challenge qualifier to benefit the Hope for Families Center. Tempting aromas wafted about the Bent Pine Golf Club as the competing chefs sautéed and sliced, sizzled and drizzled, pureed and plated one deliciously inventive dish after another.
In the end, four chefs were selected to be finalists in the 2019 Vero's Top Chef Finale on March 18 at the Bent Pine Golf Club.
"I have to say, this was the most remarkable group of chefs here tonight," said Diana Grossi, HFC executive director, before announcing this year's finalists: Chefs Eddie Hunter, Cuisine Machine; Alfredo Arce, The Wave and Bar at Costa d'Este; Travis Beckett, Wild Thyme Catering; and Chuck Arnold, Fire & Wine.
The decision was made combining votes from a trio of judges in a blind tasting – retired chef Jeffrey Mather, Thomas Miller of Vero Beach Foodie and Stacy Cook of Vero Vine – and the popular votes from an appreciative crowd. The fundraiser also included a raffle and a large selection of silent-auction items.
Hunter had slow-braised his winning melt-in-your-mouth brisket, serving it with roasted rosemary sweet potatoes, guava demi-glaze and locally farmed microgreens. Arce pan-seared his sea scallops to perfection, serving them atop a sweet potato puree with pork belly and a sweet and savory tomato and bacon jam. Beckett's perfectly seared herb-crusted lamb chops were made even more delicious topped with a lush blackberry coulis. And Arnold proffered impossibly crispy waffle slices topped with house-smoked steelhead trout and drizzled with collard green butter and Sriracha syrup.
The decision was a tough one, as the other dishes were equally impressive. Chef Mike Wood of Wood 'n Spoon served his chicken Oscar with an in-house hollandaise and a Moroccan-inspired 'McBooha' sauce. Chef Austin Fletcher of 121 Tapas drizzled a lush Béarnaise sauce over thinly sliced Wagyu with roasted red pepper hash. Chef Leanne Kelleher of The Tides served tasty towers of corn bread topped with hominy grits, pickled green tomato and slow-roasted southern BBQ duck. And Executive Chef James Mason of the Grand Harbor Golf and Beach Club served his ceviche Old Florida style, marinating bay scallops and gulf grouper in blood orange juice.
"There are a lot of charities in Vero Beach as you know, and we're No. 1," said Dr. Bill Cooney, HFC board chairman. "So, join us in your charitable contributions, please. The homeless children and families of Vero Beach really appreciate it. You should know that 65 percent of the people who stay at Hope for Families Center are families with children. They're children that need our help."
The HFC assists homeless families to put their lives back together by providing temporary housing to up to 84 individuals in a safe and stable environment. They also provide day care for the children so that parents can concentrate on securing jobs and saving money toward permanent housing and a better future.
For more information, visit hopeforfamiliescenter.org.
Photos by: Kaila Jones
Click HERE to see more or buy photos