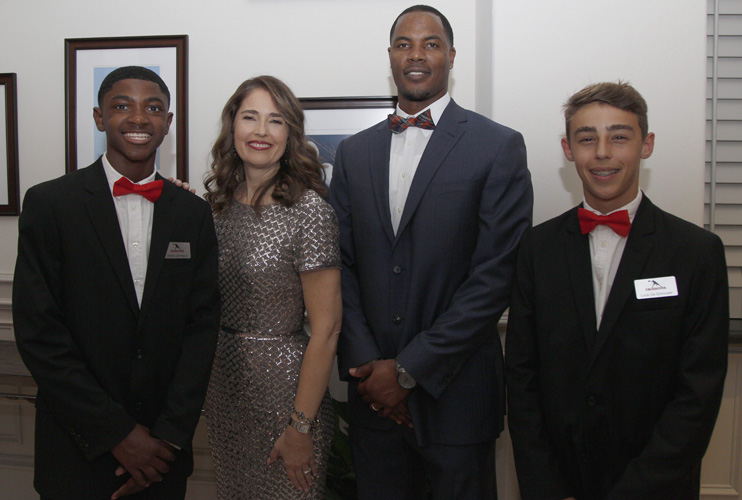 The Crossover Mission Fifth Anniversary Celebration at the Grand Harbor Golf Club was a slam dunk last Thursday evening, where tuxedoed young men mingled with guests and discussed their progress in school and on the court.
Crossover Mission, founded in 2014 by Antoine Jennings and Cathy De Schouwer, uses a love of basketball model to entice at-risk middle and high school students to focus on academics and aspire to a better life.
"This has been the hardest, but most rewarding, thing in my life," said Jennings, recalling school visits where the teachers would talk to him about 'his' students. "They weren't taking their academics seriously. We've watched them grow and mature."
By holding them accountable, providing structure and positive role models, students who might otherwise enter gangs, drop out of school or become incarcerated, are exposed to constructive life experiences.
At Crossover's inception, 40 percent of the students had a 1.9 GPA or lower. Today, less than 4 percent are in the zero to 1.9 range, and 58 percent have a 2.7 GPA or higher.
"Rather than feeling like recipients of charity, participants of Crossover are part of an elite group of basketball players who are being invested in and trained to become successful," De Schouwer explained, crediting student successes to the deep connections built between mentors and mentees.
De Schouwer cited a recent United Way report indicating that 4,000 young people in the county are unserved by existing youth programs.
"These youth are living in poverty, or at the level of the working poor struggling to provide adequate housing and basic needs for their families," said De Schouwer.
Noting that unrestricted afterschool hours are a particularly dangerous time for youth, De Schouwer said "it takes an activity with strong appeal and peer association to draw them in and inspire them to work toward their education. Crossover draws in tough kids to provide them with structure and a positive influence."
Chris Foster and Mark Wygonik created an elegant tone for the evening, and Foster also choreographed a dribble-dance performed by Crossover Mission High School Dribblers and dancer Kaylin Knudsen from Indian River Charter High School.
The boys dribbled lighted balls in a spectacular synchronized performance that combined the grace and beauty of the sport with the fluid movements of the singular dancer.
"This piece is an artistic reflection on the struggle of life and what our kids face every day. It's a display of unified movement, basketball, rhythm and light set to the powerful music of life," said De Schouwer.
SRHS junior Antonio Jones, who hopes to pursue an arts career at Ringling College of Art & Design, displayed several of his pencil drawings, including one with the faces of mentors who have helped him stay out of trouble and improve his grades.
Other students shared their experiences and feelings of gratitude, and Vero Beach High School senior Isaac Anderson, announced his acceptance of a football scholarship to Chowan University in North Carolina.
Crossover currently serves 75 children and has plans to expand into a facility of its own with basketball courts, an academic center and administrative space.
For more information, visit crossovermission.com.
Photos by: Kaila Jones
Click HERE to see more or buy photos