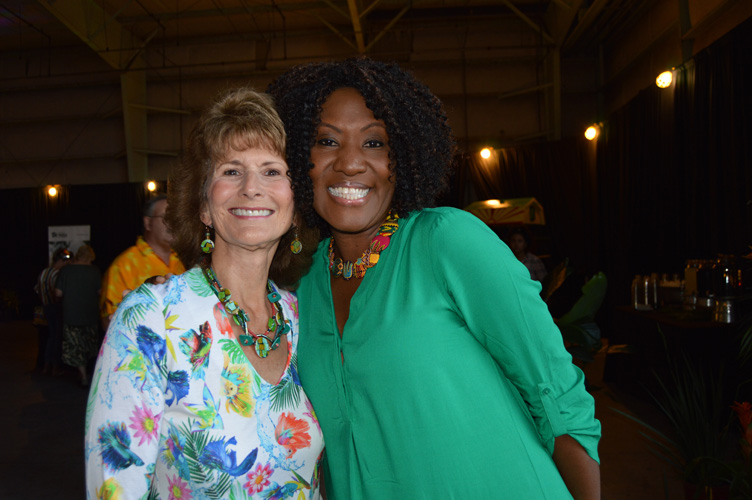 The Caribbean sound of steel drums lured guests into the Sun Aviation hangar last Saturday evening for a Jamaican Me Crazy Fest fundraiser to benefit Indian River Habitat for Humanity. As they passed through an archway of tropical flora, attendees adopted a "no worries" attitude that lasted through the evening.
Habitat changed the theme of its annual benefit this year, shucking off their cowboy boots and Stetson hats to embrace the laid-back island life. Fest-goers, some sporting green, black and gold with flowing dreadlocks, perused a substantial lineup of silent-auction items, tried their hand at a wine ring-toss, showed their flexibility by doing the limbo, and played Island Golf and a Crazy Coconut Catapult game.
Wild Thyme Catering kept bellies filled with passed hors d'oeuvres, a bountiful charcuterie table overflowing with meats and cheeses and, later, an island-style buffet dinner featuring Jamaican jerk pork tenderloin and tropical shrimp kabobs served with fried plantains, coconut rice and pineapple salsa.
Dancers from the 14th Avenue Dance Studio entertained with some fancy footwork, before giving group instruction to brave participants who gave it their all during a fast-paced merengue lesson filled with hip action and laughter.
"We are doing so much more for working families in our community, beyond putting up four walls," said Sheryl Vittitoe, Habitat president/CEO. "We are literally changing the trajectory of the families that we serve and breaking the cycle of generational poverty."
The faith-based nonprofit is on trajectory to serve more than 100 families annually by building and repairing homes, while improving lives and whole communities through partnerships with families and community volunteers. Their goal is to construct 18 new homes this year and 20 next year.
Habitat homebuyers help build their own homes through sweat equity and volunteerism. They are also required to attend financial education classes, earning them affordable mortgages so that they can raise their families in decent housing.
Courtney Chambliss was one of the homebuyer volunteers earning sweat equity toward her home purchase. She excitedly explained that without Habitat for Humanity, she would never have been able to purchase her own home.
"People told me I couldn't do it, but I can. I've been on my own since I was 19," shared the 23-year-old nursing student, who currently pays 70 percent of her income toward rent for a small apartment. "It's difficult to survive when most of your money is going toward rent. This is a game-changer for me."
On April 20, don your bunny ears for the Habitrot & Realtors Hop for Habitat 5K Run/Walk, 8 a.m. at South Beach Park. For information, visit irchabitat.org.
Photos by: Stephanie LaBaff
Click HERE to see more or buy photos