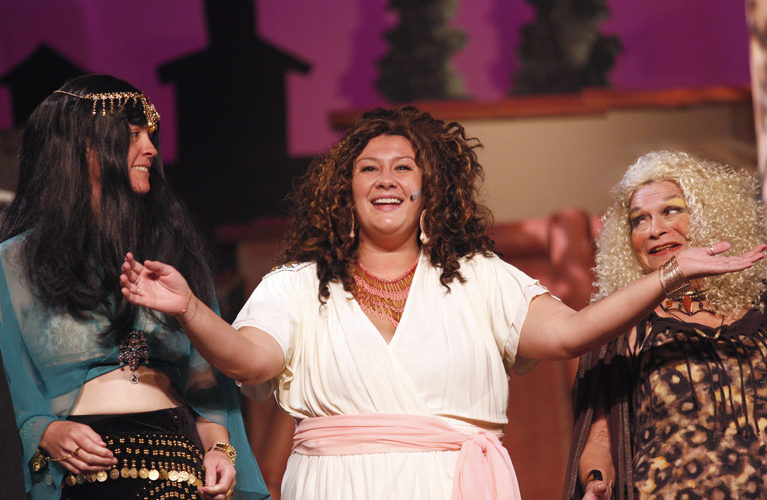 As the climax of the big 61st season of the Vero Beach Theatre Guild, it doesn't come any better or funnier than "A Funny Thing Happened on the Way to the Forum."
At heart, the show has a vaudeville aesthetic, which means gags galore and frenzied pacing. Created by wit-meisters Burt Shevelove and Larry Gelbart, and musical genius Stephen Sondheim, "Forum," as it's called by theater folk, shot out of the gate in 1962 as a winner and remains one of the American theater's best loved musical comedies. It is also the most often produced by both amateur and professional theaters.
"We have a real strong cast with this show," says Jon Putzke, VBTG board president. "The audience is going to laugh themselves into the aisles."
Leading the romp is Gregory Harris, the chorus and drama director at Storm Grove Middle School. He takes on the leading role of Pseudolus, a conniving slave in Ancient Rome who, more than anything, wants his freedom.
Part of Pseudolus' plan involves Hero, the son of his master, Senex. Then there's Philia, the virgin living in the next-door brothel. The plan is that Hero and Philia should get together. The stone in the sandal of the plan is that she has been promised to the notorious Roman soldier, Miles Gloriosus.
For sure, Harris knows he has big shoes to fill. Part of the storied history of "Forum" is the list of legendary comics who have played Pseudolus: Zero Mostel, Phil Silver and Nathan Lane.
A movie version was made in 1966, again starring Zero Mostel as Pseudolus. In the role of Hero was Michael Crawford, who would gain big fame in the title role in Sir Andrew Lloyd Webber's "The Phantom of the Opera."
A friendly guy with bounding energy and a ready handshake, Harris has been on the VBTG stage in "Cabaret," "Hello, Dolly!" and "Jerry Finnegan's Sister," which he performed with his wife, Caitlin. He has also music directed "The Mikado," "Pirates of Penzance" and "Cabaret."
He's a quick study, he says, and that's a good thing because it was barely a week before opening that he stepped into the role. "I've got the first act memorized already," he says, one day after getting the script.
At a technical rehearsal last week, where lights and sound cues are coordinated with actors, Harris was questioning where on the stage he should stand.
"Do you want me up here, or down there?" he says, pointing to the edge of the stage.
Realizing his goal of turning in a solid performance, his fellow cast mates cheered him on by saying "You're doing great, Greg … Yeah, great!"
Harris found that immensely heartwarming.
"It settles a lot of the nerves," Harris says. "Coming in at the 11th hour is very nerve-racking. But to have the support of everyone who has worked so hard is extremely humbling."
Fortunately, he already knows most of the songs because "Forum" is such a popular show. "Like 'Comedy Tonight,'" he says. "I have sung snippets of that since eighth grade."
As far as his comic timing, Harris says with a laugh, "I hope it's funny!"
"(Harris) has a great sense of humor," Putzke says. "He has an overabundance of energy, is the most incredible quick study. He stepped into the role of Cliff (one of the leading roles) in 'Cabaret' at the Guild about three days before it opened."
Director Beth Shestak, herself a former professional actor, is confident that every cast member will deliver the comic setups and punches with ease.
"Pseudolus is definitely the driving force of the show," she says. "It's not an easy role. It's wordy; song wise and acting wise. But the great thing about this show is that it's really an ensemble cast. The major players are everyone and they all have quite a bit of stage time."
One of her favorites is Erronius, played by Bill Lembeck, an old man who, in an effort to rid his home of ghostly spirits (conjured by Pseudolus), takes on the task to walk around the Hills of Rome seven times. The gag is heightened by stage hijinks, which come to a sudden halt whenever Erronius enters and slowly trudges across the stage.
Joe Sears is Hysterium, a fellow slave and only friend to Pseudolus. Sears also has extensive performance background in upstate New York. His wife is a professional musical accompanist.
And then there are Eric Jones and Phil Markley who play the Proteans with a slapstick deadpan humor evocative of Buster Keaton.
There is also Sondheim's music and lyrics. In fact, this was the first musical for which he wrote both the music and lyrics.
"It's stereotypical Sondheim," says music director Ben Rose. "His lyrics are genius. The melodies are just so well written and unique; smart and witty even though it was written decades ago.
A bit of theater history: The show's opening number, "Comedy Tonight," was created as a Band-Aid of sorts for a show thought to be ailing. It had originally opened with a love song, but Jerome Robbins, brought in to fix the show, said it needed a jolt, a kick-start for the humor.
So Sondheim wrote "Comedy Tonight," and the iconic beginning became: "Something familiar, something peculiar, something for everyone; a comedy tonight. Something appealing, something appalling, something for everyone; a comedy tonight. Nothing with kings, nothing with crowns; bring out the lovers, liars and clowns. Old situations, new complications, nothing portentous or polite; tragedy tomorrow, comedy tonight."
But, for sure, there are still love songs, done with appropriate attitude.
Hero and Philia, played by Alex Martinez and Tara Giovannone, sing "Lovely," in which they moon over how lovely it is to be lovely. Hysterium delivers "I'm Calm," in which he desperately tries to calm down. And Lycus, played by Rob Volsky, Pseudolus and the Courtesans perform in the bawdy number "The House of Marcus Lycus."
"A Funny Thing Happened on the Way to the Forum" runs March 12-31 at the Vero Beach Theater Guild, 2020 San Juan Ave., Vero Beach. It performs 7:30 p.m. Tuesdays through Fridays, and 2 p.m. Saturdays and Sundays. Tickets are $15 to $30. Call 772-562-8300 or visit VeroBeachTheatreGuild.com.