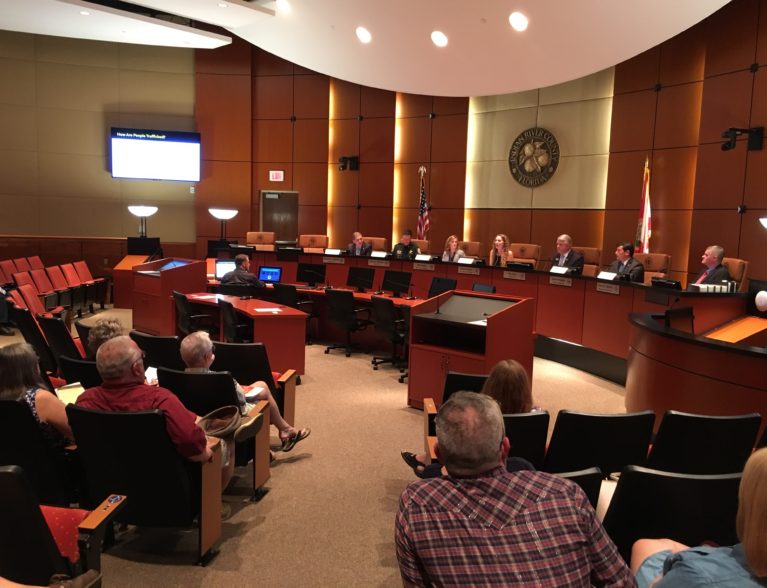 Many victims of human trafficking don't cooperate with law enforcement for a number of reasons, including fear of prosecution, embarrassment, or because they are conditioned to deny any involvement, officials said.
"It's difficult to prove human trafficking without the cooperation of the victim," said Jeff Hendriks, Assistant State Attorney for Indian River County, during a presentation held Wednesday at the county chambers inside the administration building. "The victims have trouble identifying themselves as victims."
Wednesday's forum comes less than a month after authorities carried out a sweeping sting that took aim at a sex trafficking operation at several spas in Indian River County and Orlando. The undercover probe led to the arrests of dozens of men who engaged in acts of prostitution, as well as the operators of the sex spas.
Florida ranks third in the U.S. for human trafficking, behind Texas and California.
Laura Cusak, who works at the Place of Hope, a family-style foster care children's organization, said that coercion is the most damaging effect to victims in human trafficking cases. The coercion, or use of force or intimidation to gain obedience, creates a bond between the victims and traffickers when the victims have no means to escape, Cusak said.
The victims at the sex spas in Indian River County did not speak English, had no access to transportation and lived inside the parlors, authorities said. In those cases, the women were afraid their bosses would call law enforcement or immigration on them.
The victims were only allowed to leave the spas if they were accompanied by one of the operators, authorities said. Law enforcement said the prostitution acts at the spas in the county were "hidden in plain sight."
Child trafficking victim suffers from PTSD
Human trafficking comes in many forms, including labor trafficking, sex trafficking, domestic minor sex trafficking and domestic servitude, officials said. Matt Sprague, who was a victim of child trafficking from when he was a toddler through junior high school, said he suffers from post traumatic stress disorder from the incidents.
Sprague, 36, and his wife Kelly, 35, moved to Vero Beach last July. Sprague, who works as a family minister at Cornerstone Christian Church, said he went to Rapid Resolution Therapy in West Palm Beach for treatment.
"Male adult survivors are often not believed," said Kelly Sprague, who has been married to Matt for 13 years. The child trafficking incidents Matt fell victim to happened in Indiana.
The trafficker died when Matt was in junior high school, Kelly Sprague said. Matt Sprague began attending therapy sessions in Iowa, where the couple lived before moving to Indiana, after the incidents.
Sprague also had therapy treatment in Indiana. He recalled being moved in and out of hotel rooms located near the Indy 500 sports racing event in one of the sex trafficking episodes.
Kelly Sprague said her husband still has PTSD triggers from the sexual abuse. Sometimes, Sprague has flashbacks and symptoms of dissociative disorder, which causes people to have a disconnection between thoughts, memories, surroundings, actions and identity, according to the Mayo Clinic.
The triggers are often caused by something in Sprague's environment, including something he sees or hears.
A dog breeder in Indiana donated a 2-year-old Giant Schnauzer named Gabby to the family, Kelly Sprague said. Gabby comforts Matt Sprague when he has the triggers.
"We had to share his story to get the help we needed. It was a huge change in Matt's ability to live a more normal life," Kelly Sprague said.
She also added that the general public may not understand that sexual abusers can target anyone, male or female.
"Boys are trafficked too. The long term effects of sex trafficking can last a lifetime," Kelly Sprague said. "Support services should help the victims for a lifetime. No matter what you've been through, healing is possible and there is hope."
Human Trafficking
Anyone can fall victim to human trafficking, and anyone can be a trafficker, officials said.
"No two human trafficking cases look the same. It could happen anywhere and there are so many varieties of human trafficking," Indian River County sheriff's spokesman Maj. Eric Flowers said. "Victims get caught up because they talk to someone who they think can take care of them. We need help combating this."
Anyone who suspects there might be a case of human trafficking should contact the National Human Trafficking Hotline at 1-888-373-7888.