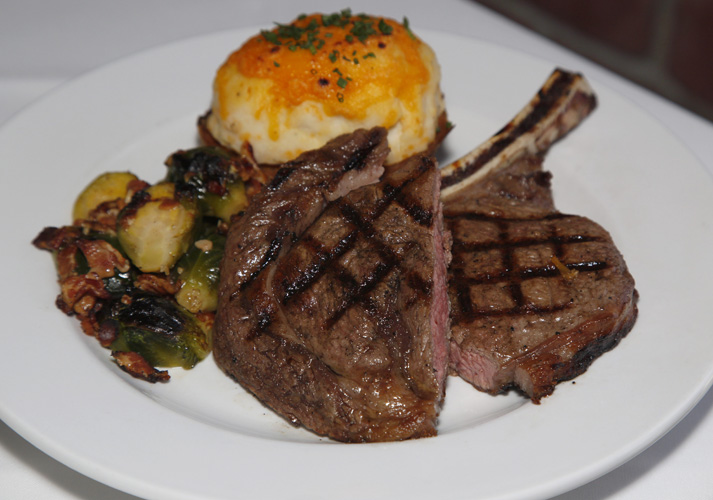 PHOTO: Kaila Jones  —  What do you call a restaurant that combines the best of two Vero eateries?
Answer: Vero Prime.
When Vero's most prolific restaurateur, Roger Lenzi, closed Avanzare last spring after a decade-plus run as the area's favorite Tuscan trattoria, he added some of Avanzare's greatest hits to the menu of Vero Prime, the area's top steakhouse.
Vero Prime has the right atmosphere for a steak house – dark and hushed, black ceilings, burnt sienna walls, a lot of brick. Everything about it says steak. But with the addition of the Avanzare items to the menu, if your party does not consist entirely of carnivores, there now is something for everyone.
That worked out great last Friday when our party of six turned out to have two diners more interested in rekindling memories of Tuscany than in tackling slabs of beef.
After a couple of glasses of wine and some appetizers – the best of which were the crab stuffed oysters Vero Prime was serving that evening – the men in our group got down to serious business.
For entrées, one ordered the prime filet mignon ($52), another went for the cowboy steak ($49) and my husband chose the dry aged ribeye ($52).
I was also thinking meat, but decided to go small (well, not all that small) with the filet tips ($28). One of our companions, however, opted for the parmesan crusted chicken ($18) and I almost changed my own order when the other ordered the short rib lasagna ($24). That was always my favorite dish at Avanzare.
The steaks, I am pleased to report, universally got raves from the guys. My husband's ribeye was perfectly cooked Pittsburgh style, rare and luscious on the inside, but with a charred outside crust. Served with a twice-baked potato and creamed spinach, this is his idea of the quintessential steakhouse dinner.
And our friend who had the cowboy steak – cooked exactly the same way – was still talking about his truffle fries two days later. I, for my part, loved the whipped potatoes with mushroom and onion gravy that came with my tasty filet tips.
A big plus for Vero Prime is you get a choice of two steakhouse sides with your entrée at no additional charge. Check the price of the sides and salads at the big city steakhouses, where a single veggie can run into the teens, and you quickly realize that what you are getting here is quite a bargain.
For dessert on this evening, we shared a brownie, a carrot cake and a crème brulee (each $8), and a bread pudding ($10).
Dinner for two with a modest bottle of wine could range from $90 to $150 before tip.
While this is not yet Peter Luger – named the best steakhouse in New York City by Zagat for 30 years in a row – this is certainly the best chophouse for miles around.
Whether you are in the mood for steak, or one of those special dishes you used to enjoy at Avanzare, Vero Prime is delivering sumptuous meals at prices that are hard to beat.
I welcome your comments, and encourage you to send feedback to me at tina@verobeach32963.com.
This reviewer dines anonymously at restaurants at the expense of Vero Beach 32963.
Vero Prime
Hours: Monday through Saturday, 5 pm to late
Beverages: Full Bar
Address: 901 21St Street
Phone: (772) 226-7870
Photos by: Kaila Jones
Click HERE to see more or buy photos