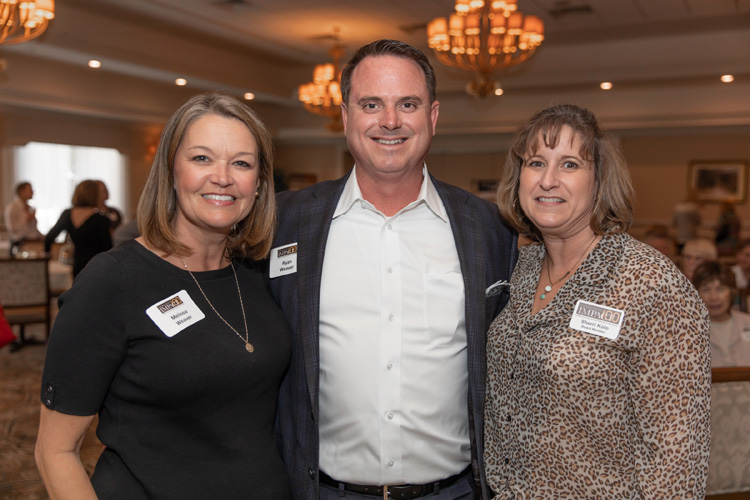 Indian River Impact 100 members will have a somewhat different decision to make at their April 17 Annual Meeting, when this year's 420 women gather to vote on which nonprofit organizations will receive 2019 Transformational Grants.
"Today has been a long time in coming," said Denise Battaglini, current president, at a Meet the Finalists Reception last Thursday afternoon. She explained that the grant process had begun in September and continued all the way to the day before, when the final vetting of grants occurred.
Thanking all who participated in the process, she added, "it's a lot of work behind the scenes to make this happen, so thank you ladies."
Event sponsor Ryan Weaver, of Ryan Weaver Insurance, related that about three years ago, he and a dozen other local businessmen used the Impact 100 model to start a fund with the Indian River Community Foundation called Business for a Better Indian River County. It has since grown to about 25 members.
"It's not always what you give but who you inspire," said Weaver.
Brenda Cetrulo, grants committee chair, expounded on the intensive grant process, which included a 52-member panel of members who reviewed the grants and conducted site visits before making their recommendations to a 14-member group, who ultimately choose the finalists.
"In reflection of our last four months of review, one word comes to my mind, and that's integrity," said Cetrulo. "And like other years, our panel members reviewed these grants with the utmost integrity."
She noted that there were hard decisions to be made, as they considered the myriad high standards Impact 100 has set for its substantive, impactful grants, before introducing the finalists.
The Boys and Girls Clubs of Indian River County wishes to fund a program called Destinations, which will assist disadvantaged teens to identify and stick with a future career path that includes college, vocational and military pathways.
"Impact 100 funds would provide the support of staff and other programmatic needs, like clothing for job interviews, and college tours," said Cetrulo.
The HALO No Kill Rescue is seeking funds for its HALO Enrichment Center, Training Center and Low Cost Veterinary Clinic. The grant would fund materials and equipment at the center which would provide low-cost spaying and neutering, and would have year-round space for behavioral trainers and volunteers to rehabilitate animals for adoption.
"HALO's vision is to transform Indian River County into a no-kill community of our furry domestic friends," said Cetrulo.
The Space Coast Symphony Orchestra wishes to introduce Music Education Programs designed to bring music education to underexposed children in an engaging way.
"Space Coast Symphony Orchestra would like funding to start four educational programs for Indian River County families and children," said Cetrulo. The programs include family concerts, children's concerts for elementary students, connecting high school students with professional musicians, and exposing children to different families of instruments.
"With over 400 members, that means that we have over $400,000 to invest again this year in our programs in this community," said Battaglini, stressing that only three finalists made it through the stringent vetting process this year because the panelists were "really, really great stewards of your money."
She said that despite there being only three finalists, the full membership will still have an opportunity to vote in April on whether or not they should receive a grant award. Members will also have a second vote, on investment options.
"It's the members' money; you get to decide," said Battaglini. "Despite the fact that our options are limited this year, the outcome of what we're doing is going to be the same. We still have $400,000 to invest in this community, like we've been doing the last several years. And so we still have the opportunity to make the same transformational difference in the community that we've always had. With this year, when we award these grants, we're going to cross the $4 million mark of investing in Indian River County. So we have a lot to be excited about and we have a lot to be proud of."
In closing, she reiterated "the impact of Impact is us; it's all of us, 400-plus women strong."
For more information, visit impact100ir.com.
Photos by: Denise Ritchie
Click HERE to see more or buy photos