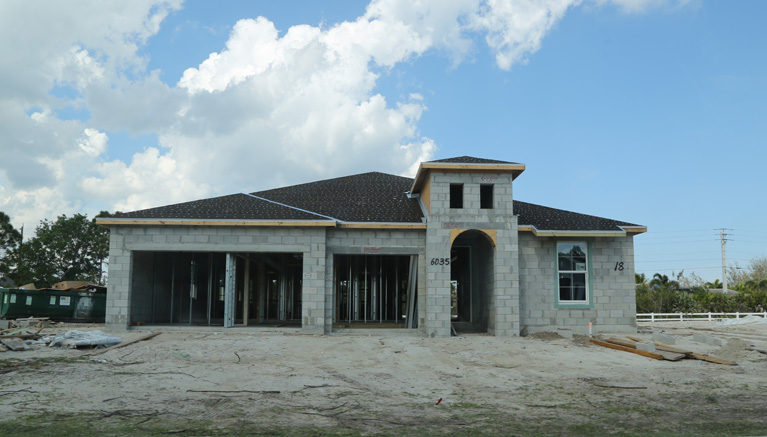 A major mainland subdivision that faltered during the real estate downturn and lay fallow for years is about to see a burst of new activity, as Lennar gears up to build 86 luxury single-family homes with base prices that range from $295,000 to $368,000.
Lennar Palm Atlantic, a division of the mega-builder that operates on Florida's east coast, is offering five models that range in size from the Aqua, a 1,966-square-foot home with three bedrooms, two bathrooms and a two-car garage, to the 2,807-square-foot Venice model, with three bedrooms, three and a half baths, and a three-car garage. All Lennar homes will feature Wi-Fi Certified Smart Home Design utilizing Amazon's voice-controlled device, Alexa.
GHO Homes and Lifestyle Homes have already completed homes in Huntington Place, offering a wide array of models priced from the low to high $300,000s.
The 55-acre property at 58th Avenue and 61st Street was purchased for development purposes in the early 2000s by Foster IRC, LLC, a real estate investment company based in California, but the market tanked before the subdivision got going.
When the market rebounded, GHO and Lifestyle bought lots from the property owner and began building homes. GHO Homes president Bill Handler says his company has completed about a dozen homes in Huntington Place and is sold out in the subdivision. Lifestyle Homes has finished approximately 15 homes and has 11 lots left.
But Lennar's Palm Atlantic division is just getting started. The company has purchased the remaining lots and opened a sales office in Huntington Place. It expects to deliver its first home in about five months, with plans to complete the subdivision during the next two years.
"The target buyer at Huntington Place is really a mix," said Lennar Palm Atlantic Director of Sales Richelle Smart. "It's a gated, luxury community that truly has something for everyone who wants the best in amenities, and everything the Treasure Coast lifestyle has to offer."
A community clubhouse with a pool and cabana has been built and the subdivision includes several conservation areas, including a nearly 6-acre parcel on the southeast corner at 58th Avenue and 59th Street. The original developer preserved many mature trees when the land was first prepared for construction.
Homes in Huntington Place offer architectural variety with a blend of traditional and modern details. Some homes are shingled, others have barrel tile roofs. Some have stucco facades, others brick.
Despite the differences in styles, the homes coordinate and blend well with each other without looking "cookie-cutter." Many homes are arranged around five small lakes and have water views.
"Huntington Place is going to have tremendous curb appeal," Smart said.
All of Lennar's homes will feature the "Everything's Included" package, according to Smart. The package includes stainless-steel appliances, wood-finish cabinetry, quartz or granite countertops and oversized ceramic tile flooring. Lennar also offers buyers the opportunity to customize their home, selecting flooring materials, cabinet styles and other finishes.
The subdivision will have community-wide irrigation and all lawns will be sodded. Electricity will be provided by Florida Power & Light and the county will provide water and sewer services.
Huntington Place is less than half a mile from the county's Sandridge Golf Club and basically across the street from Bent Pine Golf Club. It is 15 minutes from the beach and close to Indian River Mall and other shopping and dining venues along SR-60.
For more information about Huntington Place, visit the builders' websites:
GHO • www.ghohomes.com/community-huntington-place-39.cfm
Lennar Palm Atlantic – www.lennar.com/new-homes/florida/treasure-coast/vero-beach/huntington-place
Lifestyle Homes – https://buildingalifestyle.com/community/huntington-place/
Photos: Kaila Johnson / Renderings: Lennar