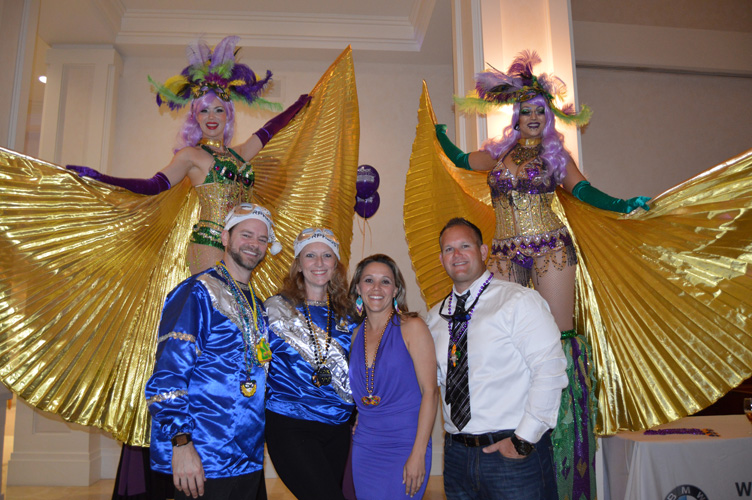 Supporters of the We Care Foundation took the expression "laissez les bons temps rouler" to heart last Friday evening during its fifth annual Mardi Gras celebration at the Oak Harbor Club. The 'krewe' brought the 'Big Easy' to town, adorning tables with beads, glittery feathered masks and model cars as an indication that the good times ahead would be fast and loose.
More than 250 masked guests dressed in their Mardi Gras finery, enjoyed cocktails as they strolled down Bourbon Street while perusing a plethora of silent-auction items and purchasing raffle tickets. The festive carnival ambiance was replete with wandering performers, including a magician, stilt walkers, caricature artist and jugglers.
"Tonight we get the medical community together with the rest of the community to raise money for a great organization," said Brian Hartman, Mardi Gras co-chair with Elizabeth White, adding that they hoped to raise more than $200,000.
Proceeds from the New Orleans-infused fête will benefit the We Care Foundation of Indian River County, the fundraising arm of the We Care program. The evening also honored the 160 volunteer physicians who last year alone provided more than $1 million in care and services to 2,000-plus patients.
Celebrating in authentic Fat Tuesday spirit, guests did their best to salute the Boeuf Gras, reveling at tables laden with iconic New Orleans-style cuisine, finishing with bananas Foster and Bourbon Street-deconstructed pecan pie shooters for dessert.
To kick off the main event, We Care founder Dr. Dennis Saver led a colorful Endymion parade into the dining room, before turning the stage over to D.J. Louie and the high-energy, colorfully feathered Phoebe Samba Team.
We Care was founded in 1991 as a cooperative venture between the Indian River County Medical Society, IRC Health Department and Hospital Tax District to provide free healthcare to uninsured individuals living at 150 percent below the federal poverty level.
Funds raised at the event support the ancillary expenses of the We Care program, such as transportation to medical appointments, special surgical supplies and surgery center expenses.
"We Care is all about specialty services and physicians," explained "Shelley Stuven, executive director of the We Care Foundation. "Instead of primary care, it's about ophthalmologists, gastroenterologists, orthopedic doctors and oncologists."
"Last year we assisted 26 patients with Hepatitis C," said Saver, adding that the medicine to cure the illness retails for about $75,000 for each treatment; these patients received it at no charge.
In addition to helping patients with various medications, he said We Care also provided 28 patients with free endoscopies at the new Scully Endoscopy Center, administered by volunteer GI doctors; enabled other patients to receive cataract lenses during free cataract surgeries; and provided wound care supplies, CPAP machines and other necessities.
In an effort to better serve patients, Saver noted that We Care is currently in discussions with the Sebastian River Medical Center and Stuart Medical groups to develop volunteer physician services there, in addition to their continued work with the Cleveland Clinic Indian River Hospital and other partners.
"In the future, you can expect to see an increased online communication from We Care, including the We Care newsletter and more community visibility," said Saver.
Later on this year, We Care will kick off a sustainable funding campaign, during which they plan to provide local residents with tours of the clinic.
"We Care continues to be blessed by the support of you, our community," said Saver. "We have been successful and intend to be even more so – helping one more time, one more patient wherever possible."
For more information, visit wecareofirc.org.
Photos by: Stephanie LaBaff
Click HERE to see more or buy photos