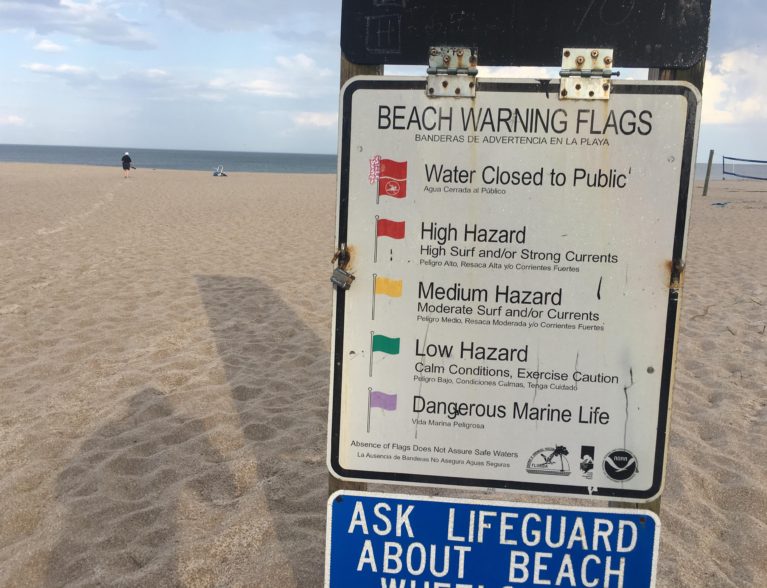 Photo by Nick Samuel
VERO BEACH — Sightings of spinner sharks feeding on fish near shorelines have led authorities to close the city's three beaches, sporadically, for the past few days, city officials said.
"There are tons of spinner sharks. It's active, I can say that," Erik Toomsoo, president of the Vero Beach Lifeguard Association, said Monday. "They are feeding on fish all over."
No shark bites have been reported, Toomsoo said.
The spinner shark sightings caused lifeguards to close beaches to swimming at Jaycee Park, Humiston Beach Park and South Beach Park numerous times Monday and during the previous four or five days, Toomsoo said. Lifeguards have intermittently placed double red flags at the beaches.
"We close for about 30 minutes when we see a shark. If we don't see a shark within the [next] 30 minutes, then we'll reopen," South Beach Park Lifeguard A.J. Nicholson said. "They have been jumping all day, so we have been closed."
Toomsoo said spinner shark sightings are a common occurrence at the beaches. If the sharks come within 100 yards of the shoreline, lifeguards decide whether or not to close the water to swimmers.
Beach closures due to shark sightings happen at least once a week at one or more of the city's three beaches, Toomsoo said. In addition to spinner sharks, blacktips and nurse sharks have also been spotted by lifeguards.
Spinner sharks are usually about 3 to 6 feet long, but can also reach up to 9 feet long, Toomsoo said.