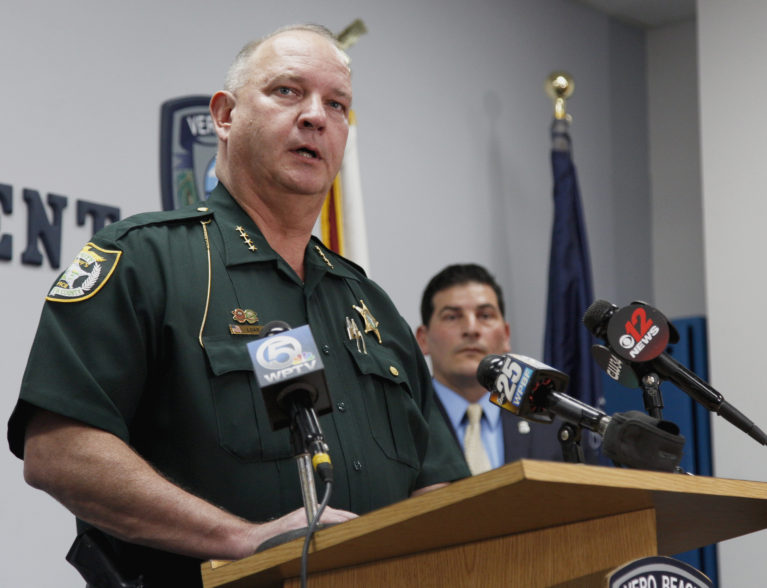 Photo by Kaila Jones
INDIAN RIVER COUNTY — Sheriff Deryl Loar announced Monday that he will not seek re-election for the sheriff's seat after he finishes out his term in January 2021.
"I am confident in the leadership team we have developed during my tenure," Loar said in a statement. "I plan to take my experience and passion into a new phase of my career and will work diligently to ensure the next generation of leaders at the Indian River County Sheriff's Office are prepared for what lies ahead."
Loar said he has served as county sheriff for about 12 years. For more than a decade, the sheriff has expanded his agency, seen the aftermath of controversial shootings and lately, helped coordinate one of the most notable human trafficking cases in Florida.
Loar also said he endorsed sheriff's Maj. Eric Flowers – the agency's spokesperson – to become the 11th sheriff to lead the county.
"Earlier this year, I celebrated 30 years as a law enforcement professional. After careful consideration, I have decided that I will not seek re-election for a fourth term," Loar said in a statement. "I am proud of my career that spans twenty years with the Florida Highway Patrol and what will be twelve years here at the Indian River County Sheriff's Office."
Loar will officially end his law enforcement career in January 2021, at the age of 53, a news release said. Flowers, who could soon fill Loar's shoes, filed his candidacy for the sheriff's position Monday morning.
"I am honored and humbled to have his support. He has been a great friend and mentor over the years," Flowers said. "I look forward to building on the foundation that Loar and other previous sheriffs have built."
Flowers will be running against another candidate for the sheriff's position, Charles Kirby, according to the Indian River County Supervisor of Elections website. It was not immediately clear if more applicants would also be joining the race.
Flowers said he began working at the sheriff's office in 2003. Flowers said he has held a variety of positions while working at the agency, including being a patrol deputy, on the SWAT team, an honor guard, field training deputy, undercover detective, sex offender trafficking detective, detective sergeant, community affairs sergeant, public affairs lieutenant and major of the bureau of administration.
"He is very dedicated and well-prepared in meeting the challenge to become sheriff," Vero Beach City Councilwoman Laura Moss said. Both Moss and Flowers are part of Leadership Florida, a statewide organization that brings together emerging and existing leaders to prepare and inspire them to build a better Florida.
Flowers has always wanted to be in law enforcement, ever since he was a child, according to his campaign website. His vision if he becomes sheriff is to ensure the community's safety and to make sure criminals serve time behind bars.
The sheriff's office has about 300 to 500 deputies that protect and patrol the unincorporated areas of Indian River County, Flowers said. The agency, which oversees the county jail with 434 inmates, is located at 4055 41st Avenue.
Loar noted some great accomplishments the agency has made while he acted as sheriff. Some of those include Loar leading the sheriff's office through one of the worst economic downturns in decades.
Others include the agency establishing mental health court, receiving an Excelsior Award from the Commission for Florida Law Enforcement Accreditation and the state of the art forensic unit being recognized as one of the best crime scene teams in the state.
The sheriff's office also added a homeland security unit. The county jail was recognized by the Florida Model Jail Standards and the Florida Corrections Accreditation Commission.