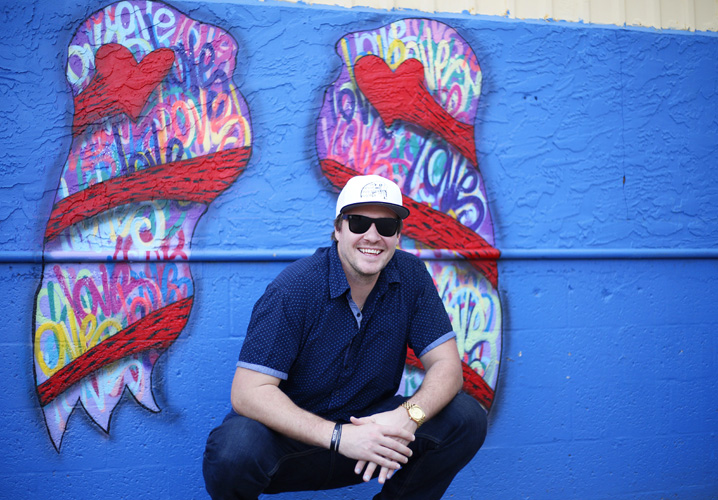 Photo: Kaila Jones
Christopher Sweeney, a 29-year-old Beachland Elementary School art teacher, is like a modern-day pied piper, charming students with his cartoon characters and hands-on teaching skills, while leading them into a life filled with wonder and imagination.
"The younger the child, the more impressible he is," Sweeney explains. "Exposing children to art is opening up a whole new world beyond the video games and electronics."
Sweeney says he enjoys seeing the excitement in their eyes as he challenges them to use cartoon drawings to convey emotional messages and bring the characters to life. He gets even more satisfaction when his young charges show an interest in his work outside the classroom; occasionally inviting their families along to watch him paint murals on the sides of buildings.
After studying art, education and sociology at Jacksonville University, the New Jersey native taught middle school grades six to eight in north Florida, and eventually became an elementary school art teacher in Fort Pierce. Sweeney next worked for a couple of years at Pelican Island Elementary School in Sebastian, before landing his dream job at Beachland Elementary School last year.
"I've always had a passion for art and I've always been good with kids," says Sweeney, adding that while in college, he worked in a day care center and volunteered at a Boys and Girls Club.
"My mom was a second-grade teacher, so I was always around younger children. Teaching art to young children was the perfect blend of my two passions. I enjoy sitting at the table and drawing with my kids," says Sweeney.
"My classes are always interactive. I'll have them draw an image on a sheet of paper and then I'll draw my version of the same image with enhancements. They enjoy seeing a simple drawing morph into a unique character with personality. My entire classroom is wall-papered with their drawings."
He is particularly pleased when seeing his students doodling on placemats in a restaurant rather than playing on their phones.
"Often I see they are drawing my signature robot and that warms my heart."
He explains that his robot – now visible on murals around town – came to life during his second year of teaching, when his class lesson was to create a comic book character.
"We started with simple shapes; a circle for the body, a square for the head, then a heart like the tin man and gloved hands like Mickey Mouse. The eyes are XO's for hugs and kisses because he runs on love."
Before he knew it, the robot was dancing and surfing and the kids were hooked.
"The most important thing a teacher can do is engage the student," he explains. "I stumbled on a cartoon character that grabbed their attention."
Piggybacking on the reception to his XO robot, Sweeney created a stretched-heart drawing that now often accompanies XO.
"We all have challenges in life that stretch our hearts. They get pulled and twisted and wrapped around obstacles, but if you open your heart up to love they will never break," he says. "My message is all about sharing love; we need more positivity in this world."
While living in Jacksonville, Sweeney took his art to the streets in a big way – using blank walls on the sides of buildings as his canvas. His whimsically comical murals now enhance buildings in several cities throughout Florida, including Fort Pierce and Vero Beach.
"I call myself a contemporary street artist. My style is more Pop Art with cartoon characters. When I paint on canvas it's for the enjoyment of the one person who bought it; when I paint on buildings it's for public enjoyment. It gives me the opportunity to have a fan base for people who maybe can't afford my artwork. And I love to see my students with their families taking photos."
It generally takes two to three days to complete a mural, depending on the size of the wall. Sweeney first sketches out his vision with a sharpie and then fills it in with a can of acrylic spray paint.
"The painting evolves in the process," he explains. "I get entrenched in the design and go to town with the spray can. Then I step back, look at it, and make modifications. Everything, including the words, is done with a spray can. I only use a brush to fine tune and blend."
Sweeney says he was honored to be included in the Ultimate Street Coloring Book, produced by the Miami Arts District, featuring the top 100 artists in the country.
"I was featured with artists I had been admiring and looking up to for years," he says with excitement. "I realized that the XO robot and stretched heart had universal appeal. Everyday I'm drawing him doing something new."
Sweeney says his goal is to create his own interactive coloring books for children and adults featuring his characters.
"I want some of my murals to be pages out of the coloring books, so that children can visit the pages in larger-than-life renditions. They can scope out their locations on my website and photograph their families in a page from their book. You might say it's a live 'Where's XO?' hunt."
Running on an endless amount of creativity and energy, Sweeney recently teamed up with fellow artists as part of a United Against Poverty Uplifting Vero campaign, which ties in with the nonprofit's message of inspiring people to lift themselves out of poverty and into economic sufficiency.
The campaign will feature inspirational wings of various shapes, sizes and mediums that will be incorporated into interactive art spaces all over Vero, spreading the message that everyone can lift themselves up from whatever obstacle they are facing.
"I just finished the first wing painting on the United Against Poverty building, featuring my stretched heart twisting itself around the wings," says Sweeney, referencing the New UP Center, scheduled to open this summer. "Wings are popular street art, and just about everyone wants to position themselves for a photo as a butterfly, or angel or bird."
"The driving force behind this campaign is a collaborative of local artists who are donating their time and talent, sponsors who are underwriting the supplies, and the building owners who are allowing us to create designs on their walls," says Annabel Robertson, UP executive director.
Despite his success as a street artist, Sweeney says he has no intentions of leaving the classroom.
"Teaching is fun and so rewarding. Exposing them to art at an early age will impact the rest of their life. My murals may be painted over in the future, my canvases may be damaged or discarded, but the impression I've made on my students is lasting. That's what really matters."