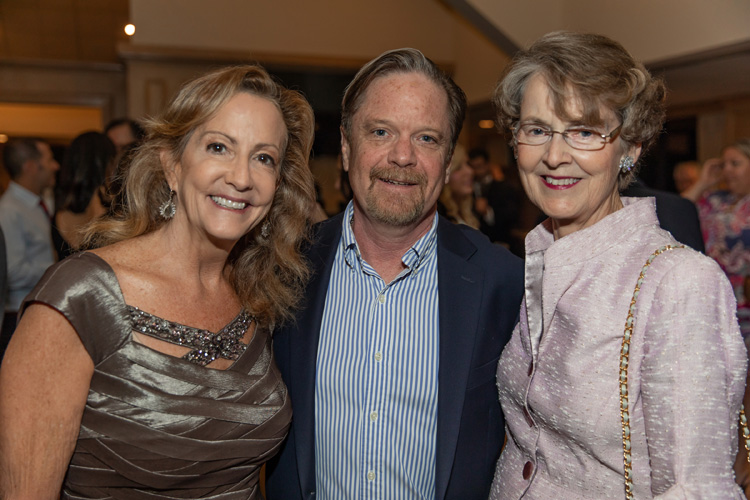 Although it may have been a dress up night for parents, the St. Helen's Centennial Grand Gala last Saturday night at the Bent Pine Golf Club was truly all about the children. More than 200 supporters gathered together at the elegant dinner to raise operational funds for St. Helen's Catholic School. This year's gala was particularly special, celebrating the 100th anniversary of the Catholic parish.
Guests enjoyed cocktails, dinner and dancing to the sounds of Jordan Thomas Odyssey Group and bid on a number of unique silent-auction items, including something handmade and donated from each class.
"The building which now houses the school library was built a hundred years ago," explained Jeff Phillips, event co-chair with wife Lisa. "The school itself is now 78 years old. Tonight's event helps support the ongoing operations and expenses of the school, serving about 275 children in grades K to eight."
St. Helen's, the only Catholic faith-based school in Indian River County, is the northernmost of the West Palm Beach diocese, and prides itself on its fundamental biblical values and small-town atmosphere. Students still study cursive, math, diagraming sentences and language arts, but also work on individual iPads, blending the basics with the latest technology. Spanish is taught all the way from kindergarten through eighth grade, so many of its graduates are bilingual. And, while nearly 90 percent of the student population is Catholic, all denominations are welcome.
"Perhaps what differentiates us most from the other schools is that we start each day with prayer. You can't do that in public schools anymore and it makes a difference," said former principal Howard Avril. "We also teach manners and respect. Early childhood behavior carries through to adulthood. Our students address their elders as Mr. and Mrs. and learn to stand and say good morning when someone enters the room. These simple acts of respect seem to be lost in today's society and they are far more valuable as life lessons than some of the book knowledge."
St. Helen's newest principal, Lisa Bell, began working there last spring and was thoroughly enjoying the gala.
"We moved here from Palm Springs, Calif., last June and we are totally in love with St. Helen's and Vero Beach," said Bell. "The parental support in the St. Helen's community is unsurpassed, as evidenced tonight. This is just so much fun."
Proceeds from the event have an immediate positive impact on the students and the faculty, said Sandi Harping, communications director for the school.
"Our home association holds this gala every year to raise funds, because tuition simply doesn't cover all the costs," said Harpring. "Roughly 45 percent of our students receive some sort of financial aid. This gala gives us the opportunity to come together as a community of faith to celebrate our parish and continue our commitment to the mission of our Catholic school. In the past we've raised nearly $80,000 earmarked exclusively for the school. Each year gets better and better."
Photos by: Denise Ritchie
Click HERE to see more or buy photos