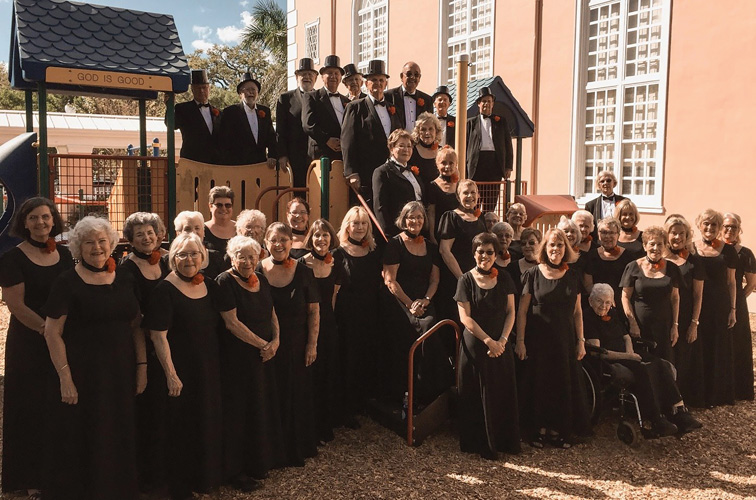 Summon your inner Cajun: You're definitely going to laissez les bon temps rouler at Riverside Theatre's Howl at the Moon Mardi Gras Nights, this Friday and Saturday, March 1 and 2. Here's the deal: It's a live music request show with not two, but three hot, party-ready pianists facing off, with you, the audience, in charge of the music. Keeping the bon temps rollin' right along, the servers and bartenders will have beads for you to collect. And, of course, there's always free music Live on the Loop, and plenty of food (Cajun this week) and beverages to purchase outside on the Loop, or inside, with your server, at the Howl show. The Rowdy Roosters Mardi Gras Dixieland Jazz Band will be playing the Loop both nights. These tres popular events can sell out, so act accordingly. Times: Howl show, non-stop 7:30 p.m. to 10:30 p.m.; Live on the Loop, 6:30 p.m. to 9 p.m. Tickets: Mardi Gras Howl show, side seats, $12; table seating, $16-$22; Live on the Loop, free. 772-231-6990.
You'll find myriad celebratory music and event choices all through 2019, Vero Beach's Centennial year. (The fire marshal nixed the cake.) This Saturday, March 2, area musicians will skillfully stuff into only 90 minutes the best "Popular Music of Vero Beach over the last 100 years," at Community Church of Vero Beach. You'll enjoy the popular IRCHS Jazz Ensemble; the "Dolls" part of the Vero Bagpipe and Drum Corps (certain to be a real delight); and "others." Look forward, says the show promo, to an "entertaining afternoon of music from 1920s to today and everything in between," all "pop" tunes, and all enjoyed by young and old in our community, no matter when you counted yourself in the "young" group. If you'd like, make a donation at the door. All the musicians are performing gratis in honor of Vero's 100th birthday. Time: 2 p.m. Admission: free. 772-226-2505 (weekdays).
Don't go away because Sunday, March 3, the Treasure Coast Chorale celebrates with a live concert, "Goin' Home," at First Baptist Church (which, by the way, had its own 100th birthday in 2016). The 65-voice-strong Chorale will present a joyful program, including Irving Berlin's moving rendition of "God Bless America"; the Mormon Tabernacle Choir's version of "This Is My Country"; a medley with Dvorak's "Going Home" and the Shaker hymn "Simple Gifts"; as well as some clap-your-hands gospel tunes. Music Director Dr. Michael Carter adds that, in appreciation of "our beautiful current home near the ocean in Vero Beach," the Chorale will perform a little Beach Boys music, and there will be "soundbites from long-time Floridians and newer residents." Other performers will be Chorale pals "The Dolls" trio – drummer Richie Mola, pianist Judy Carter and a brass quartet. All in all, a terrific "Happy Birthday to Vero Beach" afternoon. Time: 4 p.m. Doors open, 3 p.m. Admission: free. Donations always appreciated. 772-231-3498.
Victoria's Secrets: a fascinating afternoon at the Vero Beach Museum of Art. This Monday, March 4, Anglophiles will want to attend the Museum's Lecture Series Simulcast presentation, "Victoria's Secrets," by Daisy Goodwin, novelist, TV producer and creator of the popular PBS eight-part Masterpiece Theatre series "Victoria." Britain's beloved queen is most often pictured as a stern, black-clad matriarch, but Goodwin reveals her many sides – "monarch, mother, matriarch, minx." The novelist read through Victoria's diaries – "all 62 million or so words" – and now, through her, we'll learn how Victoria grew from giddy teen to working mother, then into the "grandmother of Europe"; how, at only 42, she was affected by the loss of her beloved Albert; and the nature of her relationship with her Highland servant John Brown. "Victoria's Secrets" will be shown in the Leonhardt Auditorium. Time: 4:30 p.m. Tickets: $70, members; $80, non-members. 772-231-0707, ext. 136.