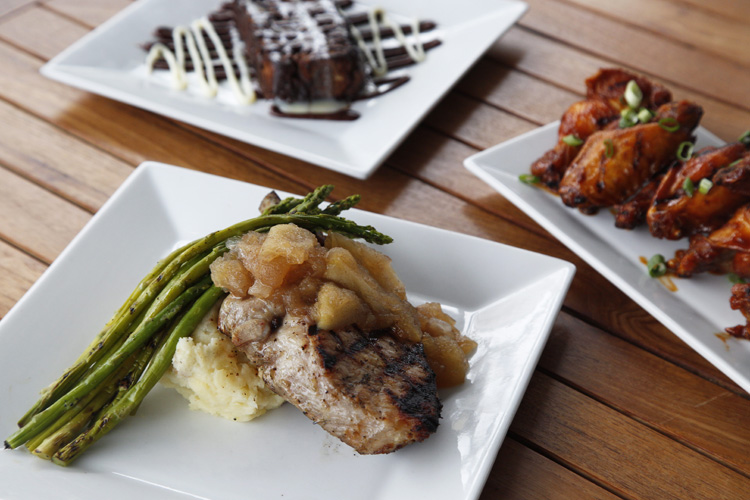 On a pleasant winter night, the kind of evening that has attracted a bumper crowd of northerners to Vero this winter, there is no more laid-back spot in the Arts & Dining District for relaxing and enjoying a drink and some food than the open-air covered deck of Post & Vine on 14th Avenue.
While this isn't exactly fine dining, the food is good! Post & Vine offers a variety of tempting appetizers to enjoy with a cocktail, beer or glass of wine; salads, sandwiches or burgers if you're in the mood for something light; and a short list of tasty, well-executed entrées for those seeking a full-dinner.
But the outdoor dining area is what makes Post & Vine unique, and the casual ambiance of the spacious covered deck – where you see some diners in shorts and flip-flops – is where most of Post & Vine's dining and drinking takes place. There's nothing else quite like it in Vero.
As it happens, when we visited last week, all the outside tables were full. So rather than wait for what the hostess guessed might be 20 minutes, we decided to dine at a high-top table across from the bar, which on this evening was fairly quiet.
Our very pleasant server quickly brought us a couple of glasses of wine. I then decided to start with a house salad ($8) and my husband ordered the lobster bisque ($8 for a cup).
The salad was very nice, and my husband said the lobster bisque – a rich, creamy soup with nice chunks of lobster and finished with aged sherry – was very flavorful.
For entrées, out of the five that Post & Vine offers, I went for the char-grilled salmon ($23), and my husband decided to have the grilled mushroom meatloaf ($16).
My husband is a big meatloaf fan, and he said Post & Vine's rendition, served with mashed potato and broccoli, was excellent. My gorgeous piece of salmon, grilled perfectly with capers and a citrus beurre blanc, was one of the best I have had recently.
On previous visits, we have enjoyed two of the other entrées offered on the short menu – the char-grilled marinated chicken breast ($16) and the garlic skirt steak ($23). Both were very good. We still haven't tried the teriyaki sirloin ($21), but I'm betting we won't be disappointed.
If you're not that hungry, however, Post & Vine offers a wide variety of appetizers, salads, sandwiches and burgers – pretty much something for everyone.
While there now are a number of dining options in Vero's downtown arts and restaurant area, Post & Vine's open-air deck is unique – and with a large firepit at one end, it is a very nice venue for a winter or spring Vero evening. If you haven't tried it yet, it's very much worth a visit.
I welcome your comments, and encourage you to send feedback to me at tina@verobeach32963.com.
This reviewer dines anonymously at restaurants at the expense of Vero Beach 32963.
Post & Vine
Hours: Mon.-Tue., 4 p.m. to 9 p.m.; Wed.-Fri., 4 p.m. to late; Saturday, 3 p.m. to 11 p.m.; Sunday, 3 p.m. to 8 p.m.
Beverages: Full Bar
Address: 1919 14th Avenue, Vero Beach
Phone: 772-907-5159
Photos by: Kaila Jones
Click HERE to see more or buy photos