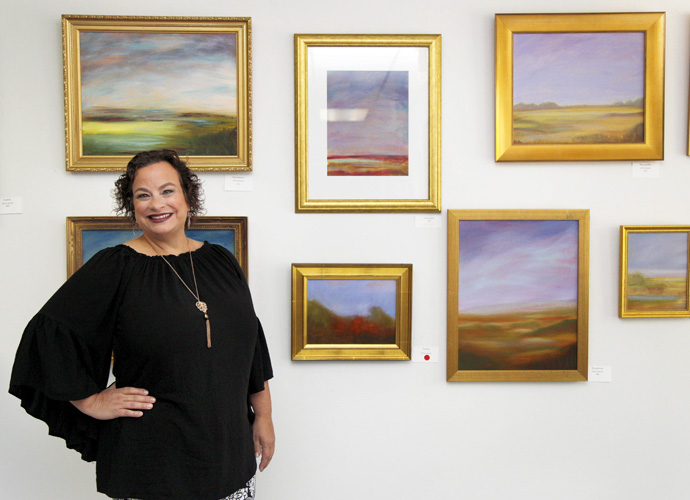 Some people know her as a painter of simple landscape scenes, many of them inspired by recent trips to Italy. Others know her as the founder and sole employee of Artfully Managed, an enterprise that frees artists who would rather be in the studio from at least some of the desk-bound drudgery of their profession. The effervescent Liz Mayo finds time to be both artist and artist's assistant, a feat she discusses with her characteristic sparkle.
Mayo's recent paintings, atmospheric oils on paper and canvas, can be seen through the end of this month on the guest artist wall and in the window of the Main Street Vero Beach Studios and Gallery on 14th Avenue. And, if you are an artist who needs organizing, her fliers for Artfully Managed are also available there.
Serendipitously, Mayo's business of managing artists' marketing and communication needs intersected with her desire to paint about seven years ago, when she took on an impressionist landscape painter named William McCarthy as a client.
Mayo met McCarthy through an introduction by pastel artist Dawn Miller, one of her Vero-based clients, when Miller and McCarthy had neighboring booths at the Vero Beach Art Club's annual Under the Oaks Fine Arts and Crafts show at Riverside Park.
McCarthy, a Connecticut resident and regular exhibitor at the juried show, recalls that at the time, Mayo was a volunteer booth-sitter – a person who temporarily watches an artist's booth when the artist needs to step out for a while. Over the course of several shows, Mayo consistently handed McCarthy her Artfully Managed business card when he returned to his post. One day, McCarthy says, he took a good look at the card.
From there McCarthy's and Mayo's stories intertwine.
"He asked me if I could help him, even though he is based in Connecticut. I said, 'Absolutely,'" Mayo recalls.
"She does everything that I don't want to do, like anything that involves a computer," McCarthy says.
In the beginning, McCarthy gave Mayo the task of sorting through and organizing a backlog of emails he had received over the years. Today, when he has an exhibition or a workshop on the horizon, McCarthy's graphic designer sends Mayo the art and ad copy for the event, and Mayo makes sure it gets to everyone on McCarthy's emailing list. She posts it to social media platforms, as well.
For the past five years, McCarthy says, Mayo has organized a painting workshop he conducts annually at First Presbyterian Church in Vero Beach. Not only does she perform the behind-the-scenes work of promoting such an event, but Mayo is also present during the workshop to ensure that needs such as "Where is the cadmium yellow?" or "Quick! A paper towel!" are met.
In a round-about way, Mayo's work for McCarthy led to his upcoming March 2019 exhibition at Gallery 14. Through her effective promotion of his workshops in Vero, a couple of the gallery's member artists were introduced to McCarthy's paintings, which led to an invitation from Gallery 14's exhibition committee.
About three years ago, Mayo's duties for McCarthy expanded to include traveling to Italy to help with an annual week-long painting workshop he conducts each September at a villa in the municipality of Farnese (about 60 miles northwest of Rome).
"Liz has become my right-hand gal for a lot of things," says McCarthy. "She makes sure the students have everything they need, so I can concentrate on teaching."
In addition to being McCarthy's studio assistant, Mayo has had the opportunity to paint in his workshops.
"He has you work from your memory and imagination. You might drive down the road and see a vista you like, and take some sketches. Back in the studio, you may peek at those sketches, but then you close your sketchbook and you begin to paint."
Says Mayo: "My art is a loose interpretation of what the landscape should be, in my mind."
She estimated that about half of her paintings on display at Main Street Vero Beach were either painted in, or inspired by, Italy. Evidently, her paintings have the power to transport others to that magical place; as of this writing she has sold three Italian landscapes from the exhibition.
Back home in Vero, Mayo has been helping artists do what they do best for nine years. Immediately after founding Artfully Managed she worked for, among others, artist Emily Tremml's Palm House Gallery and Studio. Today Mayo has about 15 steady clients whom she has assisted in one capacity or another throughout the past decade. Over the years she has worked on short-term projects for many others.
"What I do for each client is individualized to them. I start by sitting with them and talking about what they need. I ask what made them call me, how they had heard about my services."
For some artists, Mayo designs and sends out a quarterly e-newsletter that keeps the artist's followers up to date on available work, upcoming shows and class offerings. For other artists, she creates and maintains websites. Maintaining a mailing list is a perennial chore for artists, some of whom engage Mayo to keep their lists current and make sure everyone on it gets an e-card about their latest show. Other clients want her to assist in hanging their exhibitions and logging sales at the reception. She also photographs and frames art, too.
"I do whatever they need me to do," she explains.
"In a past life I worked for a marketing company, and also as a paralegal," says Mayo, who has an associate degree in paralegal studies. For several years before her marriage, she worked for law offices in Boston that specialized in patent, trademark and copyright infringement litigation.
Mayo and her family, computer engineer husband Brian and their son Zachary, came to live in Vero 18 years ago. But it was not the Massachusetts native's first glimpse of our ocean side community.
"My uncle had a place here when I was little, and my mom and dad would borrow it for a cheap family vacation. I've been coming to Vero my whole life."
Although Mayo had tried her hand time and again at painting as a young wife and mother, "nothing ever stuck." That is, not until after settling in Vero. In 2006 she began taking classes and painting with the artists at Palm House. Her talent for organizing events, as well as her palette, did not go unnoticed there. She soon came to the conclusion that artists, notoriously unorganized when it comes to the business aspect of their careers, needed her help. That's when she decided to start Artfully Managed.
At the same time she has continued on her own creative path, learning first-hand about the challenges an artist faces in getting work before the public.
"The last time I had a show was two summers ago at the Emerson Center with two other artists," she says, and admits, "I'm very good at getting my clients' work out there, but not so good at getting my work out there."
Main image: Liz Mayo stands in front of her art, which is displayed at Main Street Vero Beach Gallery. [Kaila Jones/32963]