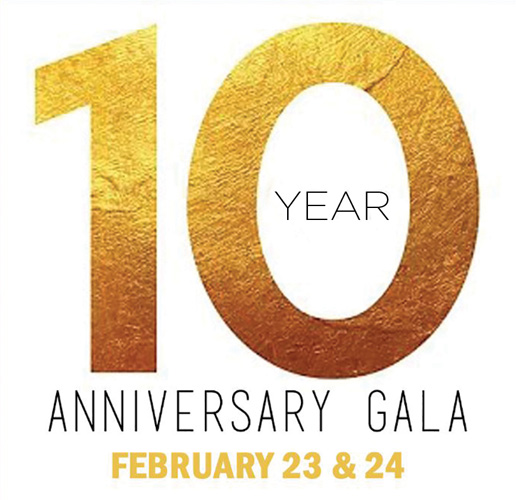 Happy 10th, SCSO! No surprise, the Space Coast Symphony Orchestra is celebrating a decade of terrific music-making with … more terrific music-making, and their Ten-Year Anniversary Gala concert is going to be a musical doozy you won't want to miss this Sunday, Feb. 24, at Trinity Episcopal Church in Vero Beach. Always innovative and fearless, the orchestra has chosen to mix a premier of new music with established pieces which, says Conductor Aaron Collins, "represents who we are as an organization." Take a look at what the concert promo reveals Collins and 75 Space Coast Symphony Orchestra musicians have in store for you: leading off, the world premiere of "Aue!," a Samoan-inspired piece "by the orchestra's favorite contemporary composer, Christopher Marshall." Next there'll be Paul Hindemith's 1943 masterwork "Symphonic Metamorphosis of Themes by Carl Maria von Weber," described as a joyful, "fun piece of music, based on Weber's piano works and a melody from his overture to the opera 'Turandot.'" The concert will conclude with the romantic and heroic "Symphony in D Minor," described by Wikipedia as "the most famous orchestral work by the 19th-century Belgian composer Cesar Franck" and considered one of the most significant French symphonies in the repertoire. But wait. There's more. To commemorate this auspicious occasion, Miami-based artist Christopher Maslow will reveal a newly commissioned painting (valued at $4,000). It is a large oil-and-acrylic-on-canvas portrait of the maestro himself, says Maslow, "in my signature 'exploding' style. My paintings are inspired by movement and synergistic energy. This particular portrait is based on a photograph of Aaron in his element, doing what he does best." Make the celebration last – enjoy complimentary dessert and wine and schmooze with the musicians at the post-concert reception. Time: 3 p.m. Tickets: $25 in advance, $30 at the door, 18 and under or with student ID, free. 855-252-7276.
Couldn't we all use a few good laughs right about now? We're in luck, because this very weekend, Feb. 22-23, it's Riverside Theatre's Comedy Zone, with a load of bi-coastal laughs and the usual let-yourself-go Live in the Loop music. Bringing the funny this week will be Valerie Storm, a Florida girl, and L.A. native Johnny Lee Dam. According to her bio, Storm got her comic calling early: when, as a 5-year-old contestant in the Little Miss Fort Myers Beauty Pageant, she was asked by the interviewer if she liked going to school, she replied, "Hell no, I'd rather stay home and watch cartoons." The audience exploded and she had found her calling. Dam says he got his start when he took a six-week stand-up class at a community college, delivered his first five-minute set at the end of the course, "and was hooked for life." I hear you'd better be on your toes, because this guy sure will be. As usual, the comedy is of the 18-and-up variety. This week's Live in the Loop music will be delivered by oldies rock and party band Doo-wop City. Time: Comedy Zone, 7:30 p.m. and 9:30 p.m.; Live in the Loop, 6 p.m. to 9:30 p.m. Tickets: Comedy Zone, side seats $12, table seats $16 and $18; Live in the Loop, free. 772-231-6990.
A trio of popular works will launch the Vero Beach Chamber Orchestra's 11th season this Sunday, Feb. 24, at the VBHS Performing Arts Center, and you'll likely find at least couple of them familiar: Felix Mendelssohn composed his "Hebrides Overture (Fingal's Cave)," says Wikipedia, following a trip to the British Isles, which included an excursion to the Scottish island of Staffa, and its basalt sea cave known as Fingal's Cave; next is one of Beethoven's most celebrated works, which many feel outstrips anything he had previously written, his defining Symphony No. 3, "Eroica"; and, finally, a piece by Charles Ives entitled "The Unanswered Question." This will be a diverse and fascinating musical afternoon. Time: 2 p.m. Admission: free. Donations are always much appreciated. 772-562-6125.