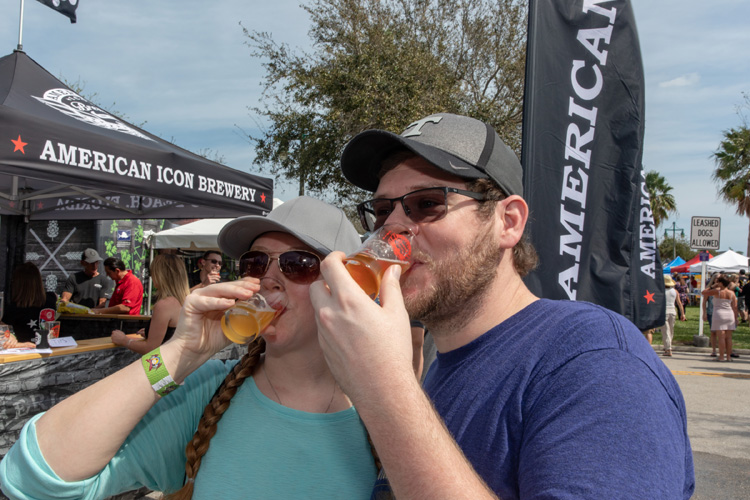 Sticky fingers and froth-coated upper lips were de rigueur last Saturday afternoon on Royal Palm Pointe, where an estimated 12,000 wing and beer enthusiasts were packed shoulder to shoulder at the eighth annual Florida Craft Brew & Wingfest, hosted by Sunrise Rotary Vero Beach.
More than 200 brew varieties flowed from the taps of area zymurgists and a brood of 20 wing-masters infused their grilled, fried and smoked chicken wings with every flavor imaginable.
Brew-loving festival-goers took advantage of tasting bracelets, giving them unlimited beer samplings of all the craft beers, with wines and a few hard ciders thrown into the mix. Samplers were drawn in to learn how beers with names like Sweet Tater Pie, Cherry-Ish the Moment and Orange Mango tasted. With necklaces of pretzels to cleanse palates between beer tastings, attendees sipped their way along as they waited in line for the next cold one.
The family-friendly event drew a varied crowd of everyone from stroller-pushing couples to senior beer drinkers toting their pooches in puppy pouches. Groups of friends gathered at every shady spot to debate over favorite brews and wings, each claiming that they'd just tried the best.
Music by Souljam, Blue Cypress Bluegrass, Slip and the Spinouts and Humdingers could be heard from one end to the other, and attendees could enjoy the entertainment while eating their way down the grassy median lined with tents and tables.
There was no winging it as a mixture of professional and individual chefs sauced, rubbed and sautéed a multitude of wings and drums, adding secret sauces and spices that tantalized taste buds. There were mild and hot, sweet and savory, with hints of honey, garlic, blueberry, mango and even kimchee flavors.
The Chef's Award in the Individual Division went to The Source, and in the Restaurant Division, Hurricane Grill & Wings received top honors. The People's Choice Award was presented to Hodge Podge, and Manatees received this year's Spirit Award.
Other competitions included a Wing Eating Contest, which ended in a tie, and a Root Beer Tasting contest for children.
"The event keeps growing and growing. This year's advanced ticket sales have surpassed all previous years," said event food coordinator Arthur Hodge. "You're the reason we're out here. What you give to us, we give back to the community."
Proceeds from the Brew & Wingfest support local Rotary Club projects and scholarships; in the past five years, they have donated more than $275,000 to local and international projects.
For more information, visit sunriserotaryverobeach.org.
Photos by: Denise Ritchie
Click HERE to see more or buy photos