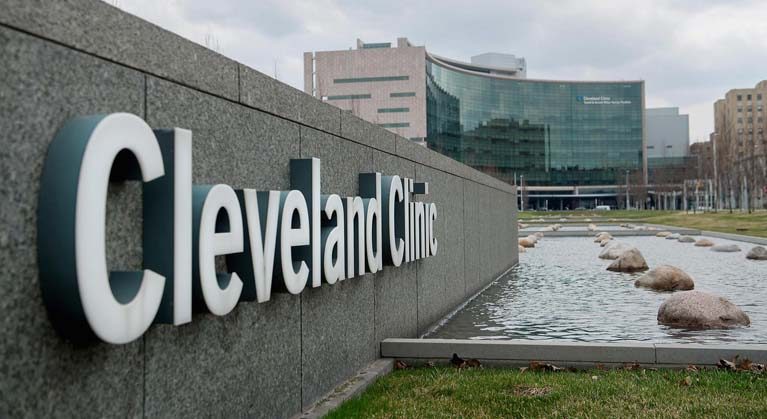 Cleveland Clinic Florida's Florida expansion moved forward last week when a zoning change allowing for a 350,000-square-foot facility near Wellington was approved by the Palm Beach County Planning and Zoning Board.
The approval was needed for Cleveland to proceed with a plan to build medical offices and treatment facilities on 35 acres near Wellington that the healthcare organization bought in two transactions in December and January for a total of $9.26 million.
The first phase of the project, a single three-story building of 69,000 square feet, is expected to take three to five years to complete. The second phase, shown as two separate three- to four-story buildings of 86,400 square feet and 182,400 square feet, could be 10 to 15 years from completion, according to Cleveland Clinic's representative at the planning and zoning board meeting.
Plans include a pedestrian bridge between the buildings reminiscent of the stunning glass-walled breezeway on Cleveland Clinic's main campus in Cleveland.
Ken Tuma of Urban Design Kilday Studios, the Clematis Street landscape design and planning firm representing Cleveland Clinic before the planning board, said the initial 69,000-square foot building will be medical offices, where out-patient surgery possibly will be performed, but that there will not be an emergency room or in-patient beds.
Tuma scrupulously avoided using the word "hospital" in describing the project, but some on the planning board used the word multiple times, and ultimately teased out a hint that the healthcare system may have more than office space in mind for the much larger second phase of the project.
Cleveland Clinic's Florida division has long sought an in-patient facility in Palm Beach County and came close to landing a partnership with Boca Regional Medical Center last year. That hospital instead partnered with Baptist Health. The only other existing independent hospital in the county is Jupiter Medical Center, which has said it has no interest in a change of status.
That means if Cleveland wants a Palm Beach hospital, it will have to build one. That would require a certificate of need from the state, costly and time-consuming to secure in the face of certain opposition by existing hospitals in the area.
At the same time, Cleveland officials spoke often during the partnership process with Indian River Medical Center about how the nature of healthcare is shifting to an outpatient-driven model. With a Phase Two timeline potentially extending to 2034, Cleveland Clinic Florida may by then be needing fewer – not more — inpatient beds.
Explaining the need for the first phase of the project, Tuma said another Cleveland Clinic office building in West Palm has 35,000 square feet of primary care practices and is "completely full."
"They need room to expand," he said.
That leaves 268,800 square feet to be developed in the project. As one board member pointed out at Thursday's meeting, the 233-bed Wellington Regional Medical Center, about four miles away, is 280,000 square feet.
The zoning change, from general commercial and planned unit development to multiple-use planned development, was approved unanimously.