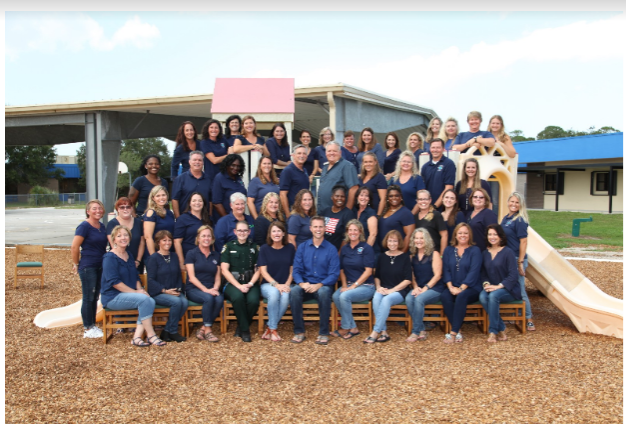 Photo provided by School District of Indian River County 
INDIAN RIVER COUNTY — An elementary school known for its science and math exploration was recently named a "2019 National Magnet School of Excellence" by a national professional education association.
Magnet Schools of America recently gave Osceola Magnet School the honor of being named a top school of excellence, officials said. Schools that demonstrate the highest level of excellence in the association's merit award program are chosen as national schools of excellence.
Magnet schools are scored and judged based on their ability to raise student academic achievement, promote racial and socioeconomic diversity, provide integrated instruction and create strong family and community partnerships, officials said. Osceola was also recognized as a "National Magnet School of Distinction" in 2018.
"We work hard every day to provide our students with a world-class education and we appreciate the recognition for our hard work," Principal Scott Simpson said in a statement. "This award encompasses so many things – it truly is an honor for the entire Osceola Magnet family."
Simpson will be recognized at Magnet Schools of America's 37th National Conference that will be held from April 10-13 in Baltimore, Maryland, officials said. Simpson will receive a National Magnet School of Excellence Merit Award during the awards ceremony.
"What a great honor for Osceola Magnet School," School District of Indian River County Superintendent Mark Rendell said in a statement. "This recognition is a direct result of the hard work of the students, staff, and the families of Osceola. Everyone should be proud."
Osceola Magnet teaches children from kindergarten through 5th grade. Science and math are combined with literacy, social studies and art lessons, officials said. Lessons prepare students for the highest levels of future mathematics courses.
Students also learn about coding, Lego Robotics and more at the Media and Technology Center.
The school regularly performs at the highest levels in local and state assessments, officials said. Osceola Magnet was named a "School of Excellence" in 2018 by the Florida Department of Education for its academic achievement and for an "A" rating for state scores.
The school also earned the "Golden Award" and "Five-Star Award" for its community involvement and parent and community volunteers, officials said. Osceola is also a 2018-2020 "National PTA School of Excellence" for its partnership with the school-based PTA.