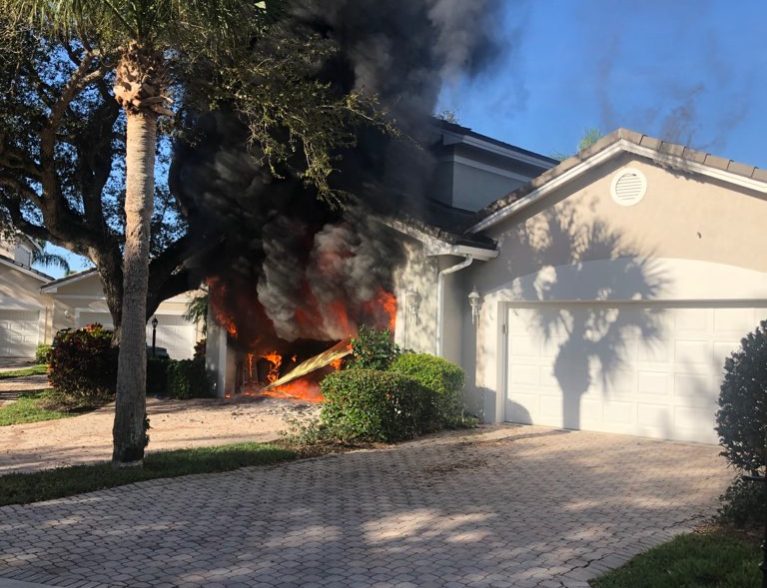 Photo contributed by Indian River Shores Public Safety Department
INDIAN RIVER SHORES — A homeowner escaped serious injury after he heard a set of explosions and then found his garage ablaze Friday morning, public safety officers said.
The blaze left the home with extensive fire, smoke and water damage, Indian River Shores Public Safety Director Rich Rosell said. The residence is uninhabitable and the homeowner and his wife are now staying with a neighbor.
"He heard two small explosions, which caused him to go to the front of the home," Rosell said. "That is when he saw the fire."
This is the second house fire to happen in the county in less than a week.
Indian River Shores officers responded to the fire about 9 a.m. Friday at a house on Peppertree North Drive in the Peppertree Subdivision, Rosell said. Officers with the department are triple certified in law enforcement, firefighting and emergency medical technician services.
Ten officers arrived and saw billows of smoke coming from the garage.
The flames spread quickly to a bedroom on the next floor, Rosell said. Indian River County Fire Rescue crews also arrived and helped officers battle the blaze.
Officers shut down the entrance to the complex off State Road A1A for about three hours as firefighters knocked down the flames.
Firefighters were able to extinguish the blaze within a few hours, Rosell said. The flames did not spread to any of the surrounding homes or any of the many oak trees in the area.
The homeowner – who was the only person at the residence when the fire ignited – suffered minor burns and was treated at the scene, Rosell said.
The blaze left the garage and bedroom with extensive fire damage. A car inside the garage was totaled from the flames, Rosell said.
The rest of the home had smoke, and water damage from firefighters hosing down the property. The state fire marshal was investigating the cause of the fire, Rosell said.